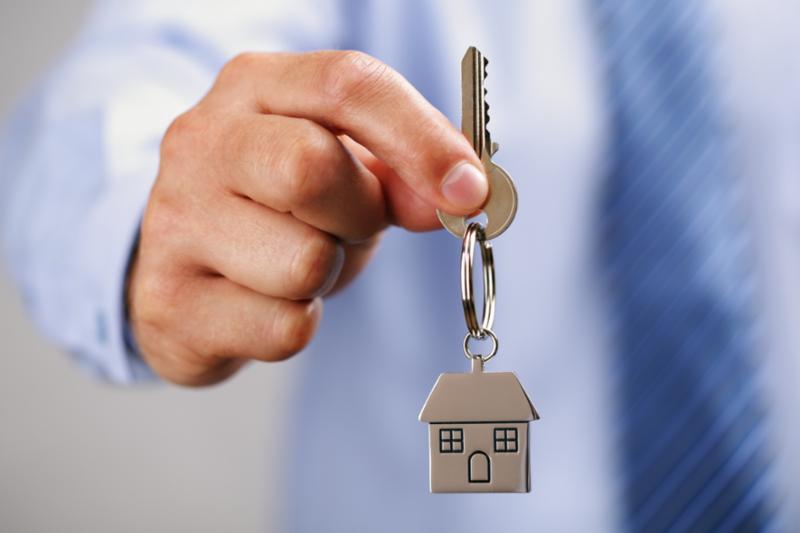 To help your home sell fast, enhance your home's value by investing time and money in minor projects that will boost its appeal. These simple repairs and inexpensive updates will help your home look its best so prospective buyers won't be able to pass it up.
Neutralize Your Home
To sell your home quickly and appeal to the largest possible buying segment, use a neutral palette throughout your home. The eye can roam freely through a neutral palette, so the space feels more expansive. If you have a vibrant hue on your walls, consider painting over it with a neutral shade. This lets potential buyers see themselves and their interests in the blank space. Lastly, take down wallpaper or borders to make your home appeal to a broad range of potential buyers.
Complete Needed Repairs
If something needs repair, fix it. Chances are you've become accustomed to your home's flaws, but a home buyer will less likely overlook imperfections. For safety, fix uneven or badly cracked cement on the front walk, repair loose railings, and replace broken windows and panes that can raise security issues. Owner neglect will only lower the asking price or lengthen the time required to sell. Additionally, ask a realtor to point out what other repairs need to be done to your home before it goes on the market. Homebuyers often require a professional inspection, so it's wise to already be one step ahead of the game. Make needed repairs before the first open house to save you stress and money in the long run.
Minimize Clutter
An organized home will help buyers see its potential while also giving rooms a more spacious feel. Sort through your belongings and pitch anything you don't need or that isn't going with you to the new home. Pack up unsightly or distracting items that are not necessary for the sale. This includes toys, out-of-season clothing, and everything on kitchen counters. Sell items that won't fit with the size or style of your new home.
Freshen Your Landscaping
Keep the grass nicely trimmed to give your yard a welcoming first impression. Cut and trim all trees and bushes so that an overgrown landscape doesn't distract from your home's beauty. Welcome potential buyers with a pot of flowers on the doorstep. If you have a porch or a deck, clean outdoor furniture.
Update Kitchen Cabinetry Hardware
Special attention must be given to the kitchen, as it is often considered the heart of the home. Changing out handles and knobs to a brass or silver finish can drastically update the look of your cabinets. Home centers sell several hardware options that are affordable and stylish.
Upgrade Your Flooring
Expose hardwood floors to enhance the look and value of your home. The popularity of hardwood floors is undeniable and can drastically raise your asking price. Buyers are seeking out natural-looking surfaces for every space. If you don't have hardwood floors, install beige carpet to make a home seem fresher.
Clean Your Home Thoroughly
An immaculate house is a sure selling point. Clean the carpet, scrub the walls and trim, and pick up all loose items in all rooms. Keep appliances spotless by cleaning off the top of the refrigerator and the handles on your refrigerator, dishwasher, and oven. Reduce clutter and maximize the appearance of workspaces by cleaning counters of small appliances, food, and papers.
Rearrange Your Furniture
Make your rooms seem larger by creating clear traffic patterns with your furniture arrangement. Traffic should be directed around the conversation core. Also, when placing furniture in a room, pay attention to its visual weight, not just its actual size. Light-color furniture or pieces with thin, tapered legs appear lighter than dark or boxy upholstered pieces.
Paint Your Front Door
Make a statement with a colorful front door. A fresh coat of paint can work wonders on any surface, and a bright hue ensures that your home will stand out in a neighborhood of neutral colors. Simple materials you likely already have on hand (paint, primer, and brushes) keep costs low.
Play Up the Light
Take advantage of all available light to help enlarge your home's rooms. Use white or pale colors, which increase the brightness of a room by reflecting light. Keep window treatments simple and avoid blocking the windows with heavy layers of fabric.
Light Up Pathways
A well-lit path to your home is both welcoming and safe as providing illumination extends hospitality to visitors and makes walking more secure. High illumination isn't necessary, and downlights will prevent glare. Individually lit pavers can also be used to light a pathway.
Dress Up Your Front Porch
Welcome buyers with a few pots of seasonal plants and a decorative door mat. If your porch is large, make sure there's a comfortable seat or swing in good condition on which guests can sit. Check that steps and railings are stable and in good repair.
Buying and selling a home can be unpredictable, as it's difficult to guess how long the process will take. But if you're thinking of putting your home on the market, now might be a good time. (In fact, newly pending sales are up 14% compared to last month.) And a word of advice for potential homebuyers: Be prepared to scoop up your dream home as soon as you find it.  Heller Coley Reed. Their guidance is the kind you will need in your real estate journey. Call today at 240.800.5155 or send an email to hellercoleyreed(at)gmail(dotted)com.