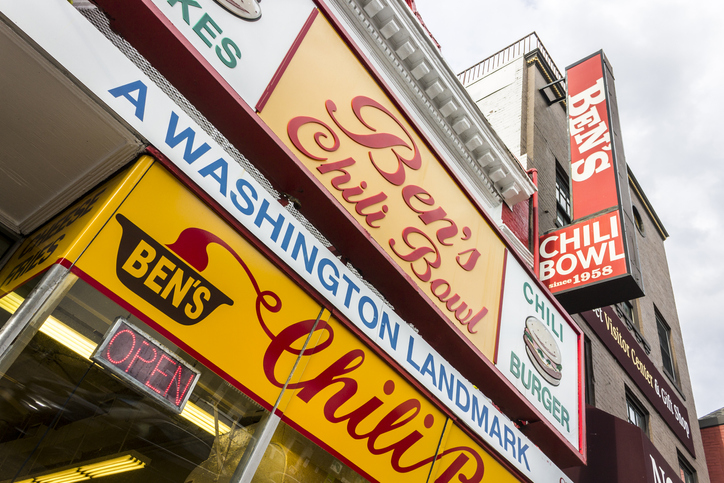 A political, cultural, and economic crossroads, Washington D.C. offers locals and visitors the freedom of nearly unparalleled dining choices. Tucked into pockets of the metro area are dining spots to satisfy each craving.
Here are the places locals flock to when they feel like…
Dining with the family
Brookland's Finest Bar & Kitchen
3126 12th Street NE.
Great food, warm hospitality, and a relaxed atmosphere keep locals going back to this friendly neighborhood diner. Their Baltimore-style pit beef sandwich, and salmon & grits are crowd favorites. Pair them with the varied selection of local beer and you have a meal to remember. Classic chicken tenders or a signature Brookland burger are sure to keep the kids happily preoccupied.
Firefly
1310 New Hampshire Ave NW
Refined comfort food defines this restaurant in Dupont Circle. Located on the first floor of the Kimpton Madera Hotel, Firefly is a long-time neighborhood favorite. The shells and cheese, crispy halloumi, and steak frites get rave reviews. They even have an extensive kids menu that comes with fresh, decorate-it-yourself cookies for dessert.
Tasting a bit of history
Ben's Chili Bowl
1213 U Street NW
Hot dogs are just as American as apple pie, and this spot in the nation's capital has been serving it with chili on top for more than six decades. Indulging in their famous half-smokes is a delicious way to pay tribute to history.
Old Ebbitt Grill
675 15th Street NW
Standing the test of time since 1856, this White House neighbor is an institution for seafood lovers. Their delicious oysters are absolutely mandatory. The only choice to be made is which wine or ale to pair the dish with.
Sampling global flavors
Toki Underground1234 H Street NE
This intimate Japanese-Taiwanese restaurant serves flavorful ramen, noodle, and steamed bun dishes. With exotic options like shiitake dandan mien and sake-battered cauliflower steam buns, this eatery is worth rubbing elbows with other diners especially if you're vegan or vegetarian.  
Ambar
523 8th Street SE
"Who wants Serbian?" is a question hardly heard when polling for the next dine-out spot. This small-plates Balkan restaurant has been chipping away at this tendency, serving traditional dishes from the region with a twist. Order the Ambar Express Lunch or Ambar Experience (dinner) to unlock a plethora of scrumptious small plates.
Enjoying a night out
The Passenger
1539 7th Street NW
Classic cocktails commingle with imaginative creations in this straightforward cocktail bar. The bartenders are some of the best in the city and will create cocktails on the fly based on a few adjectives or a specific mood. Wine and local beer on tap is also available for anyone taking a break from hard liquor.
El Tamarindo
1785 Florida Ave NW
Popular with the happy hour and late-night crowds, this Salvadoran-Mexican restaurant keeps the supply of tasty house margaritas flowing. Food specials throughout the week spice up regular dining hours. Doors are open until 2 a.m. in case of emergency cheese pupusa cravings.
DC's food options are endless, and so is its real estate. When it comes to finding the perfect home, there's nobody better than Heller Coley Reed of Long & Foster Real Estate. Give her a call at 240.800.5155 or send her an email at hellercoleyreed(at)gmail(dotted)com.