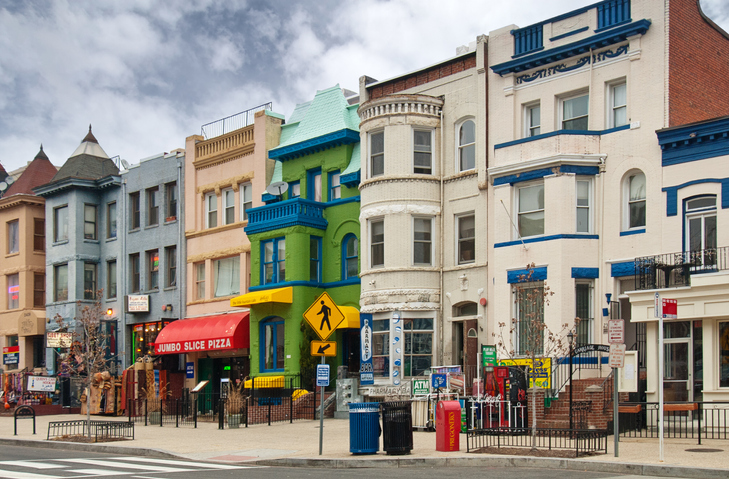 Three neighborhoods to check out in Washington, DC
Petworth, Adams Morgan, and Southwest Waterfront/Wharf— Washington, DC is teeming with neighborhoods full of zest. Each community is itching to claim the title as the best in the city. Take the following locales, for example. These neighborhoods continue to be
Anchored in its tight-knit residential community, Petworth operates on a different wavelength than the other DC neighborhoods. The most famous thing about it is President Lincoln's old cottage, but there's more to experience in Petworth.
Take the neighborhood's gathering spots, for instance, which come in the form of pop-up restaurants and locally-owned shops. Then, there are community events to look forward to, such as the Petworth Jazz Project and Celebrate Petworth.
What you'll find here:
Petworth Community Market, open every Saturday from May through November. Get fresh produce and other goods here, or listen to live musicians and meet chefs.
Pom Pom, formerly known as Himitsu, is highly lauded as one of the best restaurants in the country. This is where Asia meets Southern America.
Upshur Park is one of the main neighborhood gathering spots. One part sports central, one part grassy field. There's also a dog park and a swimming pool.
Not far from Dupont Circle is Adams Morgan. Always hailed as one of DC's more offbeat neighborhoods, Adams Morgan is especially loved for its eclectic culinary scene and nightlife. In between these hotspots of activity are historic row houses in a variety of hues.
Exciting restaurants aside, Adams Morgan is also known for its cultural diversity, of which the neighborhood is actually built on. The name alone symbolizes this— Adams Morgan is derived from two schools that used to be racially segregated.
What you'll find here:
The LINE DC, a swanky five-star resort which makes its home in a hundred-year-old church. Inside? Some of DC's best restaurants: A Rake's Progress and Brothers and Sisters.
DC Arts Center, where you can watch some of DC's up-and-coming artists take the stage (or the gallery).
Madam's Organ, one of the backbones of Adams Morgan's legendary nightlife scene. Come for live music every night.
Southwest Waterfront is hard to miss. It's one of the only two residential neighborhoods located in DC's southwest quadrant (which is also the smallest). It's only a relatively small community to others, but it packs quite a punch.
It's one of the most historic pockets of the city, a stage for modern changes. Monuments and memorials stand alongside upscale hotels, architecturally significant buildings, and a dazzling array of entertainment and dining options.
What you'll find here:
Moving to Washington, DC?
Explore the neighborhoods and your housing options in Washington DC real estate with Heller Coley Reed. Browse their website or get in touch with the team today at 240.800.5155 or hellercoleyreed(at)gmail(dotted)com.