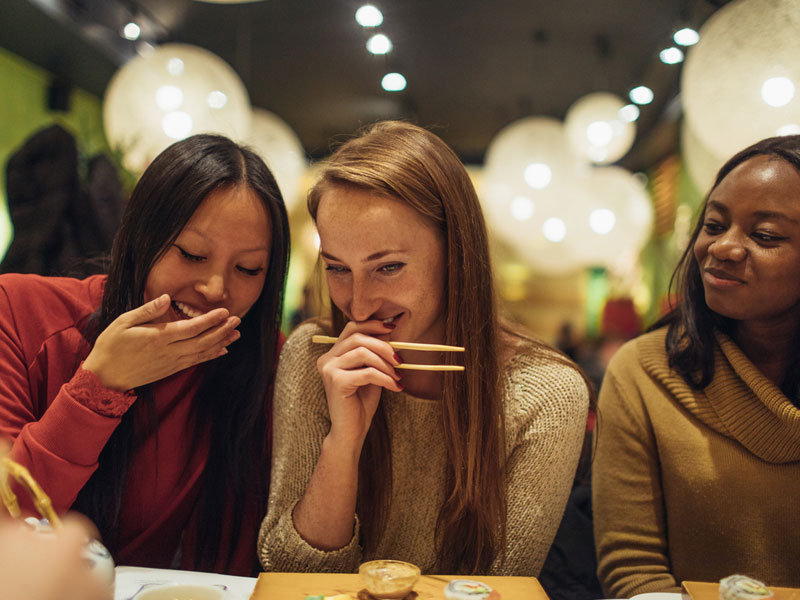 When it comes to cuisine, Bethesda is the place to be. It offers a variety of palate pleasers – Mexican, Asian, fusion, ethnic, and new and classic American.
Here's the best on the list.
Chef Tony's Fresh Seafood
5225 Pooks Hill Road
Listen to soothing jazz while enjoying Mediterranean flavors in this laidback restaurant. Bestsellers include spicy giant shrimp pasta, soft noodles, and crab cake. The restaurant's flavorful sauces give dishes an added kick.
Raku-An Asian Dining & Sushi
7240 Woodmont Avenue
Go Japanese with this bustling eatery's fresh sushi rolls and sake. Help yourself to Asian soup overflowing with fresh chicken, tofu, and vegetables.
Woodmont Grill
7715 Woodmont Avenue
This downtown restaurant has been offering upscale American cuisine since 1992. The grilled Hawaiian rib-eye is juicy, smoky, rich, and slathered in butter, and a sweet glaze makes the steak even more delicious. An in-house bakery prepares piping hot fresh bread. Live jazz music completes the dining experience.
Mon Ami Gabi
7239 Woodmont Avenue
French cuisine and art deco make this downtown bistro a culinary destination. Feast on mussels mariniere, escargot de Bourgogne, and other inspired dishes. Enjoy live music over a sumptuous dinner. Brunch more than makes up for the absence of breakfast fare. Cap your meal with profiteroles made with creamy, rich ice cream topped with yummy hot fudge.
Gringos & Mariachis
4928 Cordell Avenue
This Mexican restaurant serves to-die-for carne asada. This tender, moist lunch specialty goes well with yellow rice. Margaritas and tacos are tempting. Murals, rustic décor, and an upbeat ambiance make the place a stand-out.
Barrel and Crow
4847 Cordell Avenue
Nothing beats this downtown restaurant when it comes to freshly sourced ingredients from local producers and farmers. Its rustic old barn wood surroundings exude an easygoing, casual vibe. Mid-Atlantic offerings consist of flavorful chicken that's crispy on the outside and juicy inside. Crispy-edged waffles with fluffy centers are topped with sweet maple syrup. The bar overflows with beer, bourbon, batch spirits, and boutique wines.
Olazzo
7921 Norfolk Avenue
Savor Italian American cuisine – rich lasagna, sweetly seasoned beef, creamy tomato sauce, cheese, pasta, and salad with your special someone in this romantic restaurant. Cap the meal with tiramisu.
Guapo's Restaurant
8130 Wisconsin Avenue
This fine Tex-Mex eatery serves award-winning fajitas. Made-from-scratch Latin American and Mexican entrees are excellent. Savor the goodness of seafood soup filled with clam, scallops, mussels, and shrimps. Creamy, chunky guacamole on the side is healthy and delicious. The margaritas are gratifying.
Black's Bar & Kitchen
7750 Woodmont Avenue
This laidback restaurant has been around since 1999. Its fresh seafood and creative New American dishes are must-tries. The tender, juicy prime rib is richly flavored. Excellent wines, an elegant dining room, and a charming, airy patio welcome guests.
Alatri Bros
4926 Cordell Avenue
This Italian restaurant serves wood-fired pizzas, the specialty being the spicy crab pizza topped with fatty bacon, corn, and creamy crab sauce. Cauliflower crust and filling sandwiches are there for the taking.
If this is the kind of town you'd like to move to, or if you're selling your home in Bethesda, MD, Heller Coley Reed's team of professionals will guide you through the ins and outs of buying or selling your home. Call us at 240.800.5155 or contact us here.