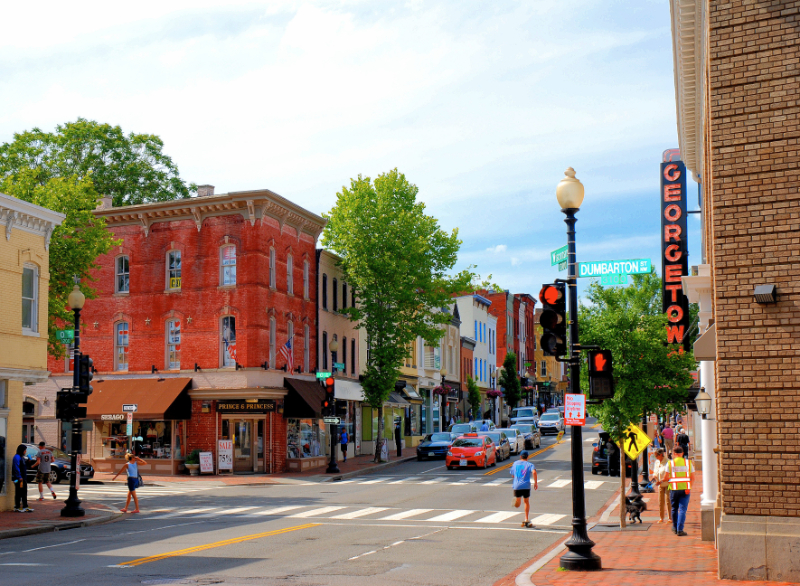 If you enjoy being surrounded by history as much in the arts, then there's no other place in the country that gives a taste of both in heaping servings than Washington D.C.  Visiting the nation's capital can only provide a snippet of what it could offer – living in it gives you the full dose of Washington D.C.'s arts, culture, and place in the country's history. What more if you live in or around one of D.C.'s best neighborhoods which offers an up-close glimpse of the District's glorious past and colorful present?
From historic D.C. architecture to the most creative D.C. neighborhoods, there's plenty to look forward to when living in or around these neighborhoods on this side of the Potomac River. 
Union Market District is a crucial point in local D.C. living because it's the primary retail hub in the middle of Washington D.C. It's been serving the community as early as 1871 and remains the best place for all your food trips and supply runs. 
Apart from shopping and dining, you can also drop by to join the many events they regularly host, such as pop-ups, live musical performances, and more. 
Head over to Georgetown to revel in historic and Federal-style architecture. Vintage cobblestone streets transport you back in time, lending an exciting contrast to the surrounding modern shops and boutiques.
You can also walk over to Georgetown Waterfront Park and explore its riverside gardens and promenade. Bikers can also enjoy the same view on their designated path along the C&O Canal. Have your fill of delectable treats and meals in the upscale restaurants, or cozy up in live music lounges, classic town-style taverns, or even college bars brimming with exuberant, youthful energy. 
U Street Corridor is home to one of the country's African American urban communities. It's also one of the best places for exciting nightlife, from food and drinks to entertainment. 
If you love jazz, this is the place to be. Jazz greats like Nat King Cole, Ella Fitzgerald, and Duke Ellington have performed here at crucial points in their respective careers. Harlem Renaissance Man and poet Langston Hughes also shared his poetry here. 
When in U Street, make sure to catch the local favorite, Ben's Chili Bowl. Even celebrities and influential personalities like Barack Obama are known customers of this place.
The name of this D.C. landmark may not sound too appealing to outsiders, but this famous riverside neighborhood is where many films and TV shows get their best shots for scenes depicting Washington D.C. 
You can get a good view of the Memorial Bridge, the JFK Center for Performing Arts, and the Watergate Hotel. For foodies searching for their next food adventure in Foggy Bottom, the wide selection of neighborhood dining spots does not disappoint. Try freshly made farm-to-table meals at D.C.'s "greenest restaurant," Founding Farmers, or find your kind of "tonic" at Tonic at Quigley's Pharmacy. 
Many new adventures await once you decide to make Washington D.C. your next home. Once you're ready to make that move, let the team of Heller Coley Reed help you. Call 240.800.5155 or send an email today.