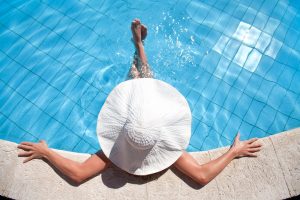 Tyler McSparin and his wife were quietly enduring the pandemic in their Kansas City, Mo., home when they heard some hammering coming from their neighbor's yard. "I thought they were doing some landscaping," he says. "The next thing we knew, there was a giant above-ground pool." He shared a photo on Twitter in early July, fearing a repeat of the final scene in the film "Bad Boys 2," in which the walls of a pool abruptly give way, unleashing a tsunami. "My estimate is that it holds about 60,000 lbs of water," he wrote. "And it is directly uphill from us. I sure hope those braces hold!!!"
Suburbanites are risking a water fight with their local governments, neighbors and homeowners' associations in hot pursuit of a backyard accessory they might have balked at a summer ago. Cooped-up American families with nowhere to go this summer as many community pools, lakes and beaches remain closed, have eagerly embraced do-it-yourself projects to make their homes and backyards staycation-worthy. Pool vendors say they are stunned by the surge in demand for the above-ground varieties this year. One of the nation's largest pool retailers, Leslie's Poolmart Inc., sells roughly 30 above-ground options, ranging in price from $400 to $9,100. By May, the company had sold out of many models and put some customers on four- to six-week back orders as demand tripled, said Chief Executive Michael Egeck.
Just as fast as above-ground pools flew off shelves from Target to Amazon warehouses, they became a flashpoint between residents, HOAs and local officials who view the cheap DIY pools as a potential hazard and eyesore that hurts property values. Some have taken to social media to air their gripes. On Twitter, one resident wrote that neighborhood children who once screamed violently on a trampoline had now moved their shrieking to the new above-ground pool: "What a difference a year makes!"
Several homeowners in the Country Cove Homeowners Association in Altoona, Iowa, have asked the group to relax its ban on above-ground pools for the summer amid the pandemic, said Jessica Olson, whose husband, Shane, is on the board of the association which encompasses roughly 240 homes. They are still considering changes to the group's bylaws to be more lenient on the pool policy, but Ms. Olson said she wouldn't favor allowing just any above-ground pool in the neighborhood. "What we are trying to do is mandate people who are serious about a pool, they meet city codes, get permits and are not going to cause damage," she said. "Not a $200 pool with 700 blowup toys." One fear is that an elevated pool would allow residents to see inside their neighbors' windows since houses in their particular suburb are positioned close together, Ms. Olson said. Changing the bylaws also requires ironing out a raft of new regulations from the decibel level of outdoor stereo systems to how pool pumps would be visually covered and how toys would be stored, she added.
Some homeowner associations have taken softer stances. In Woodbridge, Va., the Winding Creek Homeowners Association has temporarily waived its restrictions on inflatable above-ground pools in backyard pools—but just for this year, said Thomas Hessel, vice president of the about 400-house homeowners association.
"Families are struggling to find recreational activities. It was a no-brainer for us," he said. The group had opposed the pools for decades but unanimously voted in late May to greenlight inflatable ones because of the pandemic, as long as they are stored out of sight when not in use. Mr. Hessel said the HOA wanted to offer flexibility because the spread of coronavirus forced the local community pool to close for much of the summer. Before the pandemic, he said he couldn't recall a homeowner ever asking about installing an above-ground pool.
Even Mr. McSparin in Kansas City, who worries about being flooded, says he is pro-pool and wants his neighbors to enjoy their backyard. In fact, he wouldn't mind taking a dip himself. "There is no doubt that I have been jealous of the pool ever since it went up," he says.
Many people have found that their town requires permits to build a pool, even an above-ground one. Marianne DeLucio, 57, had planned on taking her grandchildren to Disney World this summer, but because of the coronavirus pandemic, she chose to invest in an above-ground pool instead. She has wanted to install it in her backyard in Centennial, Colo., for months, but the project has been stalled by the various permits and detailed renderings required by the city for approval. "I've been very frustrated," she said. "I could get a Walmart pool and hide it, but I don't want to spend so much money and the city inspectors come to take it down." Steve Greer, director of community development for Centennial, said the city follows the broadly accepted International Swimming Pool and Spa Code, a guide published by the pool and hot tub industry, to dictate what permits it requires. The application process generally takes only a few days and the renderings required for a pool are usually found in the box it came in, he said. Mr. Greer said he's noticed a definite uptick in the number of above-ground pools this summer, and blamed some of the confusion on retailers who sell larger blowup pools without telling consumers that many municipalities require a permit.
A lot of Leslie Poolmart's customers this year would never have considered an above-ground pool in the past, Mr. Egeck said, adding that when consumers who never knew there was this option figure it out, some go all in. "People want an above-ground pool, a unicorn float, a swan float, a floating radio, and anything else we've got that goes in a pool," he says.
That has made the lowly free-standing pool something else: an unlikely backyard centerpiece. In Denver, Nicole Dill, a director at a nonprofit, has hosted meetings with colleagues this summer by her blue above-ground pool. She bought it, after much searching, from another family on Craigslist a few weeks ago. Installation was an adventure. After Ms. Dill and her husband filled it with water, they realized how lopsided it was, which required them to drain the pool, level the ground and try again. Still, she says, it has been a huge hit with her young children and "the saver of summer."