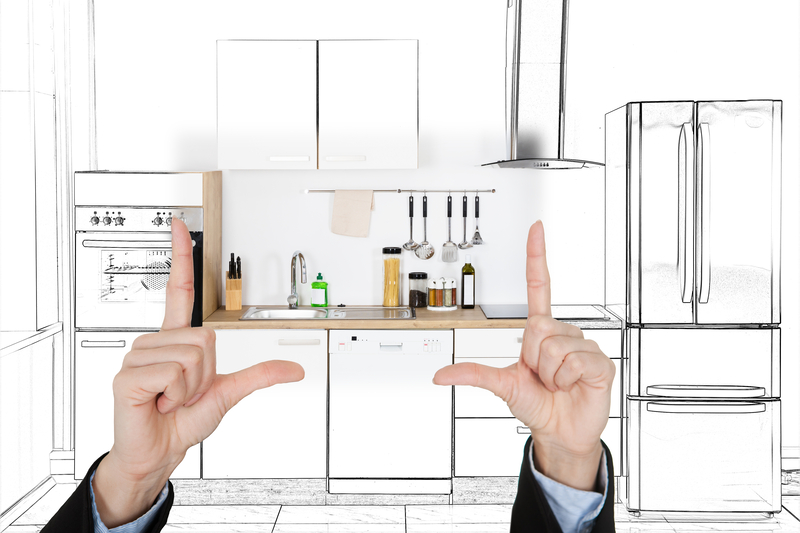 You met with your financial adviser, got a mortgage, and bought a house. Hooray! Now comes the hard part: making it your own. Whether you're in for a gut renovation or just trying to redecorate, there's a lot more to designing a property than you might think. We talked to two experts—a renovation consultant and an interior designer—to learn about the most common blunders that new homeowners (and seasoned homeowners!) make, so that you won't follow in their footsteps.
1. Starting renovations too soon
If possible, live in your house for a while before making any plans to overhaul. "Learn its flow, where the groceries land, where the laundry wants to go, how the sun hits it, where the choke points are, which way the rain slants, even get a sense of its soul," says Bruce Irving, an independent renovation consultant and real estate agent from Cambridge, Massachusetts. "All of this will inform your choices when you make your plans to change things."
2. Underestimating costs
Most jobs will cost more and take longer than you expect, so always add 20 percent to what you think a project will total when budgeting "If you don't have the funds," cautions Irving, "cut the job back. If you happen to beat these projections, then your surprises are happy ones."
3. Expecting everything to go according to plan
Work on older buildings can yield a lot of unforeseen events. Who knows what's behind that wall you're opening up? New construction is more controlled, but that doesn't always mean smooth sailing. Be prepared for the unexpected. "It's a human failing," says Irving. "We all hope and pray everything goes according to plan." Trust us: Nothing will.
4. Not hiring a designer from the start
"You are about to spend more than you ever thought possible," says Irving. "It might as well be for a correctly-designed thing." Interiors designers and architects typically either charge by the hour or take a percentage of the overall job (say, 10 percent)—a small sum compared your total payout.
5. Going for the lowest bid
"Good professional help is worth the money," says Irving. "That means design as well as construction." Be willing to pay for a good contractor, and be wary of the one who's cheap and available right away.
6. Hiring a professional that's not a good fit
Just because someone is a good designer doesn't mean she'll be a good fit for you. Do you have the same aesthetic? Priorities? "If he or she doesn't ask you a lot of questions about your needs, desires, and the way you live, find someone else," says Irving. "Listening skills and curiosity are crucial."
7. Not asking for references
Irving recommends contacting the previous three clients of anyone you plan to hire. "These people will have experienced the person at his or her current level of achievement and staffing," he points out. Reach out to general contractors for an architect's references, and vice-versa. "And visit your candidates' job sites to find out if you like what you see in terms of cleanliness and vibe."
8. Waiting too long to consult a general contractor
Ask a contractor to look at plans in the schematic stage, rather than at detailed finished plans, says Irving. "This way you can find out if your project is in the right budget ballpark before falling in love with a plan—and paying for a complete set of biddable drawings. It's also a good way to meet potential contractors, get their input, and not misuse their time."
9. Pretending to understand a design scheme
Fact: Most people can't read blueprints. Instead of eyeballing it, lay out a room or building or garden for real. "Painters tape can be your best friend," says Jocelyn Chiappone, interior designer and owner-principal of Digs Design Company in Newport, Rhode Island. Taping out a space works better than any sketch or design app for understanding how things will fit.
10. Not asking enough questions
"Ask lots of questions," says Irving. "There's no such thing as a dumb one, and besides, it's your money you're spending. You should know why and on what."
11. Making too many changes along the way
Changes that seem simple to you may require a lot of work on the back end, so be sure you check with your designer or builder on even slight adjustments. "Even moving a light switch a few feet can cost $1,500," reminds Irving.
12. Not setting up a timeline
Work with your contractor to put together a list of items that need to be purchased and deadlines for making decisions. "The last thing you want is to feel under the gun to make an important fixture selection you'll later regret," says Chiappone.
13. Not thinking outside the box, literally
Gutters, grading, and roofs may sound boring when there are chandeliers to obsess over, but you've got to build a solid envelope if you want your house to hold up. "If you're faced with a choice of working on the outside or the inside, start on the outside," says Irving. "No point in putting in a new floor if the roof is getting set to leak."
14. Sweeping interiors under the rug
On the other hand, too many times, interiors are an afterthought. Newbies often think they can do finish work themselves or throw their old couch into a new room. But if you want to love your space—and increase its value—make sure you leave room in the budget for working on interior design and décor.
15. Underestimating psychological stressors
"Any building project in your own home is fraught with power dynamics," says Irving, who suggests that couples take on a smaller project—building a birdhouse, say—first. Seriously. You might be surprised how different your styles, ideas, and approaches are. "It's happening in your nest, with your dough," adds Irving, "in large amounts. If you can't do a smaller project first, you should at least know that it would be better if you did."
16. Skimping on quality
"Spend good money on things you touch every day," offers Chiappone, "like door hardware, doors, faucets, appliances, kitchen cabinets. The tactile experience sends a daily reminder to you and your guests about the solidity and quality of your home."
17. Splurging where you should save
On the flip side, she says, "Don't get locked into the idea that the biggest items should cost the most." Nice throw pillows can dress up a mid-range sofa. Or mix a low-end dining table with a statement light fixture. Reglazing tile will be far more cost-effective than a total overhaul. "And sisal rugs are economical and always look chic!" she says.
18. Replacing windows
"Think long and hard before you replace your windows. If they're original to the house and are in half-decent shape, they can and should be resuscitated," advises Irving. Adding storm windows can do the trick where it comes to energy-efficiency. "Anyone claiming that you will earn your money back in energy savings by installing replacement windows is either misinformed or looking for your money himself."
19. Not knowing measurements
Once you know what size couches, tables, and sconces you need, write them down and carry that list with you always. You never know when the perfect item will jump into your path. "Don't fall in love with a 94-inch sofa when you can only fit an 84," warns Chiappone.
20. Buying giant furniture
While you're at it, jot down your door widths, too. "Make sure your new purchases can fit through the front door," says Chiappone. "You won't believe how often this gets overlooked."
21. Buying miniature rugs
Undersized rugs are the most common mistake Chiappone sees. "Your carpet should ground your furniture so that at least the front legs of the upholstery are on the carpet," she says. "Don't fret if a standard size doesn't work. Hit up your local carpet shop—they can make any broadloom into a different size and shape."
22. Not getting everyone on the same page
"If you are purchasing appliances, lighting, and other items for a renovation, print out all your specs and/or installation instructions," says Chiappone. "I put them in a binder for the contractor and the subs and keep onsite so everyone has access to these docs." Bonus tip: "If you were to ever sell or rent your property, this is a valuable tool."
23. Trying to be your own general contractor
Aside from their experience with construction, materials, and sources, general contractors have something else to offer: accountability. "You don't have much sway over an electrician," says Irving. Sub-contractors, however, have relationships with G.C.'s that will suffer if they don't get the job done right. Sometimes, it'll work out, especially if your jobs are relatively small. But know that it can be a risk.
24. Spending too much on tech
Technology can be pricey and become outdated quickly. While wiring every room in your house for video might seem cool, it's not necessarily a great investment. Your home's next buyer is unlikely to be impressed with an aging system.
25. Working on too many rooms at once
For anyone on a budget (i.e., all of us) Chiappone suggests focusing on the living areas first. "Doing a little here and there in multiple rooms will only leave you feeling unsettled and frustrated," she notes. "The place where you spend the most time should really serve as the focus of your energy and investment. When the budget allows, move on to the next space."