Your bathroom is one of the most personal and private areas of your home. It's where most of your self-care routine—from face masks to hot soaks—takes place. That's why it's especially important to make it a space you actually enjoy spending time in. What do you do then when your bathroom is due for a makeover, but for whatever reason—budget, time, or lease agreement—you can't commit to a full renovation?
"A bathroom can be updated without a total renovation," assures Mel Bean of Mel Bean Interiors. The designer recently completed a bathroom project in which her team gut-renovated the shower, but gave the rest of the space a little facelift without any major construction. "We painted the walls, trims, and cabinets in a shade of gray that beautifully complemented the original countertops, as well as the new marble shower," she says. Then they updated the cabinet hardware, towel hooks, and tissue holder. "Now the space feels completely new," says Bean.
In addition to upgrading some decorative elements, there are other ways to spruce up a bathroom without calling in a contractor. "The most important element in a well-designed bathroom is good lighting," says designer Lee Ledbetter of Lee Ledbetter & Associates. "Bring light fixtures into your bathroom to create a warm combination of both natural and supplemental light." Of course, when all else fails, remember being thoughtful about the little things also elevates the ambience in a pinch. "Great smelling soap, good hand towels, and three-ply toilet paper are essential in any bathroom," says Jean Liu of Jean Liu Design. "These small and simple staples can instantly up anyone's bathroom design game."
Ready to give your bathroom a quick (and contractor-free) revamp? The following smart bathroom upgrades range from simple swaps of everyday items to afternoon projects and two-day transformations.
Add Color
"If you have a mostly white bathroom, consider painting your cabinetry a bolder color to add instant personality," says Cortney Bishop of Cortney Bishop Design.  "Just because your bathroom is a private space doesn't mean it sill can't evoke character and charm."
Try New Textiles
"Bathrooms are full of noncommittal choices you can switch out," says Saoli Chu, an interior designer at Block, a bathroom-renovation startup based in Brooklyn. Start with your shower curtain, which is equal to the size of a wall, as updating it can be as transformative as an allover coat of paint, especially in a small space. Even swapping out plastic or acrylic rings for polished metal gives your room a "higher-end look," Chu adds. Afterwards, swap the things you touch daily, like plush cotton towels and soft rugs, or even your ceramic soap dish. Luxe versions of these items can really refine the place.
You can also go for the unexpected. "Cozy essentials, such as textiles—I love an antique carpet in a modern bathroom—and artwork is an easy way to add warmth, color, and scale to a utilitarian bathroom without remodeling the entire space," says Ledbetter.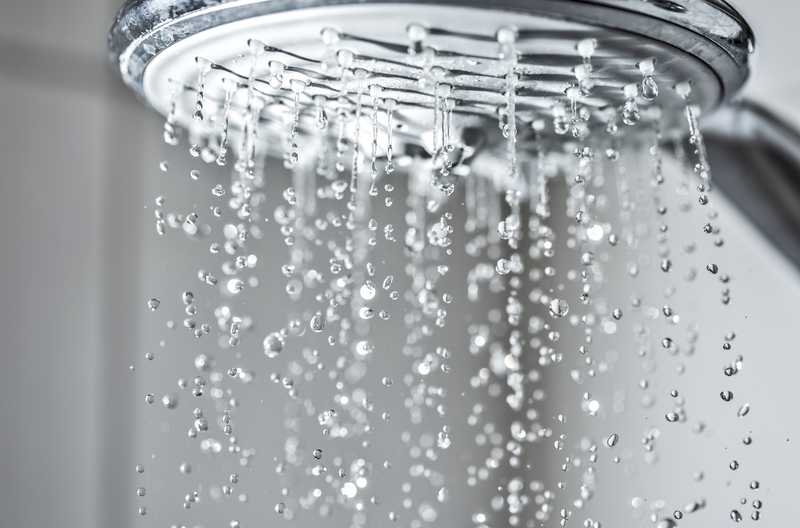 Increase Your Shower Pressure
A spa-like shower head will bring you daily joy, and installing it is among the most doable DIYs around. Think about installing a dual model that features a rain head as well as a detachable handheld sprayer, which makes cleaning your tub that much easier, says Lorna Aragon, a former home editor of Martha Stewart Living.
Mix Up Your Metal Finishes
Installing new drawer pulls, towel bars, and even faucets isn't any trickier than painting-just a little pricier (all those knobs do add up). If your sink and shower or tub fixtures are in good shape, start by changing the hardware on your cabinets. Ideally, you want major fixtures to match, Smith says, but you can introduce a second finish with knobs and accessories. Like us, she loves brass and chrome (which she describes as "the next 'new' thing in bathrooms"), as well as matte black ("a great alternative to oil-rubbed bronze"). Interior designer Jess Cooney agrees. "I highly recommend going with chrome fixtures," she says. "Oftentimes, chrome will save you a good amount of money instead of polished nickel or a custom finish. It's a great way to save on money and not sacrifice the look of the bathroom."
If your faucet is tarnished, try to remove buildup first with a solvent such as CLR. A new one can be a big investment, but it will single-handedly revitalize an older vanity or pedestal sink, and is a quick job, since the footprints for faucet and handle openings are standardized.
Upgrade the Lighting
"For a simple way to update and improve a bathroom that may not provide the kind of glow you seek, consider upgrading your light fixtures," says Liu. If you can't do that, try putting existing lighting on a dimmer. "The majority of bathrooms in older homes have an overhead light or a bar light over the mirror," says Marc Long, owner of Long's Construction. For a more flattering glow fast, replace your bulbs with LEDs. "Look for a lower-wattage, full-spectrum daylight bulb. It'll be bright but not glaring, and ideal for applying makeup," Smith says. But the optimal setup is a pair of wall sconces-one on each side of the mirror at about eye level (so they don't cast unflattering shadows on your face). You'll need an electrician to wire them and a handyman to hang them, patch the drywall, and touch up the paint. When all is said and done, it'll be about one afternoon's worth of work.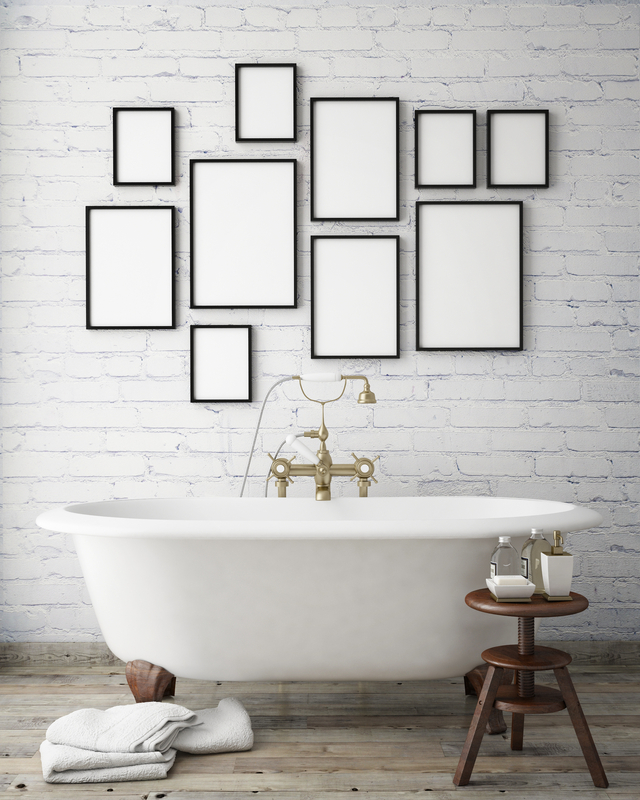 Hang Artwork
"The bathroom tends to be the last place considered for artwork and wall décor, but it adds personality and can change the mood of the room," says Anne Hepfer of Anne Hepfer Designs. She suggests hanging some eye-catching artwork above your bathtub or sink. "This makes the entire room look more luxe and creates a focal point for the space."
Have Fun with Tile
"There's a reason basic subway tiles are such a popular and timeless choice," says Bean. "They are easy to work around, affordable, and can be taken in a different direction depending on other choices you make." Impactful tiling doesn't stop at the wall, though. Lay a new pattern on the floor for an updated look on a budget. "This makes the most noticeable difference, and there are lots of good options for around two dollars a square foot," Smith says. Another savvy idea for any surface: Borrow a sheet material like quartz from the kitchen, suggests Aragon. "You'll use less grout, which makes it much easier to clean."
Install Wallpaper
"Wallpaper is a quick and simple way to add a ton of punch to a bathroom," says Julie Massucco Kleiner of Massucco Warner Miller. "Whether you're going for drama, whimsy, or more tailored, there's an endless number of papers to suit every mood."
Choose a New Paint Color
"It's the easiest project with the biggest impact," says Smith. If you don't love your tile, a contrasting wall can draw attention away from it. Similarly, a shiny coat on a dull vanity will make it look brand-new. If you're thinking of painting your ceiling, a sheen can help make a small space feel more expansive, Smith says; the effect is even more pronounced with darker shades. But you may want to avoid shine elsewhere: Semi-gloss paint used to be standard for bathroom walls and cabinetry, due to durability. Performance paints give ceilings a stylish matte look that'll stand up to humidity.
Maximize Storage Space
Taking advantage of wall space by mounting shelving or ledges is a way to add space in underutilized areas, Chu says, but installing a new under sink cabinet is more straightforward than you might think. It's a lot simpler than in the kitchen, because "vanities have been standard sizes for a long time," says Smith. Before you tear yours out, look underneath; if the tile stops at the cabinet, you'll need a new one with the same or a larger footprint to avoid redoing the floor as well. If it continues up to the wall, you'll have more flexibility. To pick a style, think about how you'll use it. Do you want to stash cleaning supplies behind a door, or keep towels in baskets on shelves? Custom drawers with interior outlets for hot tools are popular add-ons, too. Last, factor in the sink's surface area. "You want it to be wide enough to rest your toothbrush and curling iron on," Smith says. "That might mean compromising on the size of the basin, but it's worth it."
Elyse Moody and Caroline Biggs, Martha Stewart