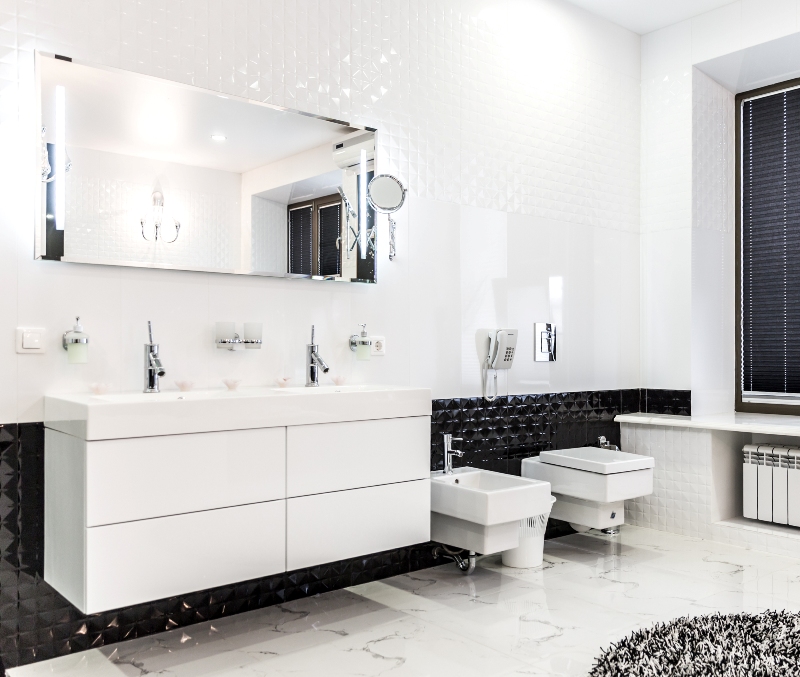 Many designers say they see things in black and white, and for good reason. Black and white is a classic, destined to never go out of style. And even though it's a tried and true combination, black and white bathrooms don't have to be boring — and we're here to prove it.
Here's why a black and white bathroom color scheme works, and how to gain inspiration for your classic, neutral space, no matter the size or your personal style.
Black and white is a high impact
Black and white is perfect for spaces that are used frequently, but that you still want to pack a punch. Black and white allows for a space to be fun, without looking utilitarian. Look for graphic tiles, as the neutral color scheme can support a fun or busy pattern. Black is also a perfect fit for shelving, vanities, and mirrors since it always feels crisp, and won't fade or yellow.
Black and white has universal appeal
Black and white is the perfect backdrop to serve as a happy medium between cheerful and sophisticated. It's universal, appealing to both young and old, men and women. Black and white allows for punches of color through accessories, such as hand towels and fixtures, and owners tend to appreciate the ability to easily update the room throughout the years by switching out smaller details, such as artwork.
There is also definite energy that comes from the contrasting hues. Look for fixtures in a black finish, which is quickly becoming a designer favorite.
Black and white is perfect for small spaces
Black and white is a bold choice, making it a perfect choice for smaller spaces such as a bathroom. When you can't expand the layout of your space, the simple and start contrast of a black and white palette will serve you well to lend some high style to your design. Black tends to make the space feel larger, while white pulls the space inward. Together, the design works to feel intimate and cozy, but not claustrophobic.
Open and airy elements, such as floating shelves and a floating vanity, help the design disappear into the walls. Once again, black fixtures and trim tiles help to complete the package and tie the look together.
We're here to tell you that black and white bathrooms will never go out of style. You want the overall aesthetic of your bathroom to feel both relaxing and clean, which is why black and white works so well in this particular space. This classic color scheme is the ultimate in elegance and is just the kind of design inspiration we're looking for 2020 and beyond.
If you're interested in learning more about luxury homes for sale in Washington DC, we're here to help. Browse through our listings or contact us to get started today.