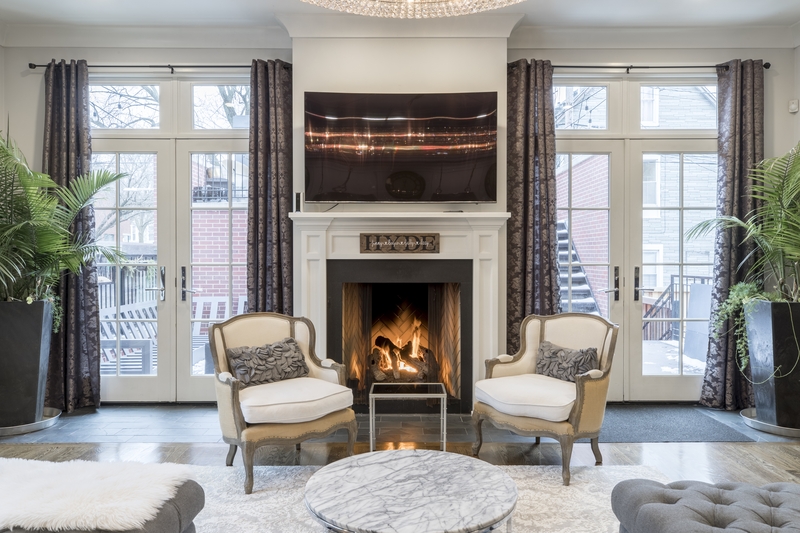 The purpose of a TV room is just that—watching TV. But with today's super-sized screens to contend with, squeezing in a sense of style (let alone making room for furniture) can be tricky.
That's exactly why to consider turning to the design pros for advice on creating a space where there's room for a POV—and a TV. Here's what some experts have to say:
Upholster Away
"A big comfortable sofa or sectional is the way to go in a TV room. More often than not, these days, we are upholstering TV room furniture in indoor-outdoor fabrics. These textiles have come a long way.
"Draperies are a wonderful diversion. They moderate the echo of surround-sound speakers and help soften the room overall. Window treatments are critical for television watching. I always opt for motorized shades that when you turn the TV on, the shades automatically drop at the same time.
"We recently designed a television space in very large great room. The TV needed to be large enough to see from across the room, but our client didn't want to have it take over, so we placed it in a custom cabinet and had the television pop up.
"Do not use recessed lighting cans over the television or over viewers' heads—they cause a glare on the screen and over the viewer. Upholstered walls ensure the room is quiet and helps with sound bounce, echo, et cetera."
Maintain an Easy Flow
"For many, this is the space where we entertain guests, so we also want seating options that allow for fluid social conversation. An L-shaped couch is one of the best design decisions you can make for a TV room. It will complete the social circle and allow you to watch TV from multiple angles.
"The wall behind your TV shouldn't be too distracting. This is the last place you want busy wallpaper or bright colors. Consider using a black finish, whether paint or marble, so that when the TV is off, it blends into the space. One great purchase is a Samsung Frame TV that can transform into any piece of art when you aren't watching TV.
"It may come as a surprise, but stay away from coffee tables. Beautiful plush ottomans topped with a tray for a flat surface are necessary in a TV room. Not only is this much more aesthetically pleasing, allowing you to play with color, but it acts as a comfy footrest and can be repurposed for extra seating.
"The artwork is all about planning for scale. If you have a long sofa, look at horizontal artwork to
hang over top. I often recommend using painters tape to mark out the space where you'd like to hang artwork and see if the scale works.
"Lighting levels always change the vibe of a room, so this should be a top consideration. Look at mounting sconces on the wall and if you don't have the necessary wiring, there are fantastic ones that can be plugged in. As a multi-purpose room, you want lighting that can dim depending on the mood."
Distract the Eye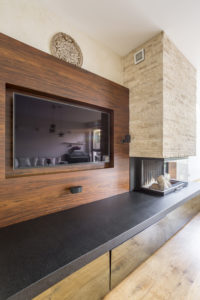 "TV placement and a discreet place for your equipment to live so that you don't have cords dangling everywhere are important. Designing a cozy and functional seating area is also key. Built-in sofas that go wall-to-wall or sectional sofas can really maximize the seating area and make it feel cozy. We love to add in playful, moveable poufs for extra seating. Controlling light and acoustics are also big factors, both of which can be addressed by integrating blackout shades or heavy drapes at windows.
"Whenever possible we try to minimize the presence of the TV and provide beautiful furniture elements for your eye to focus on. A monochromatic, darker color is a great way to unify a room and make it feel special. Framed artwork and shelving that display books and personal items are another way to make a TV room feel well designed.
"We provide a recess in the wall for the TV or screen (this gives a more finished look and also hides the sightlines from the sides and any glimpses of cord and equipment behind). Integrate a way to conceal the TV with a movable panel. This really gives you the best flexibility in a space since you can literally control whether it is visible or not."
Focus on Form and Function
"Integration of comfort both in aesthetics and functionality is key. I like to use a deep couch and add a variety of pillows in different shapes so that each person can find their own comfort level. An ottoman with a built-in tray in the center can serve as extra comfort for more guests to put their feet up while still giving you the function of a coffee table.
"Upholstered walls immediately add refinement to a TV or family room while enhancing the acoustics."
Get Creative
"You don't have to sacrifice your style for comfort. The room should flow with the other design elements in the house. We love two sofas in a TV room as well as swivel accent chairs or a sectional. The swivel chairs add great flexibility.
"If the focal poin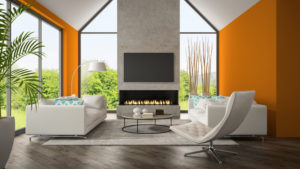 t of the room is the fireplace, we always put the TV over the fireplace. The Samsung Frame makes it even more chic to do so. In fact, now you can get a decorative frame to go with it beyond the stocked options. We love Deco Frames as they have many modern options that really make it look like art."