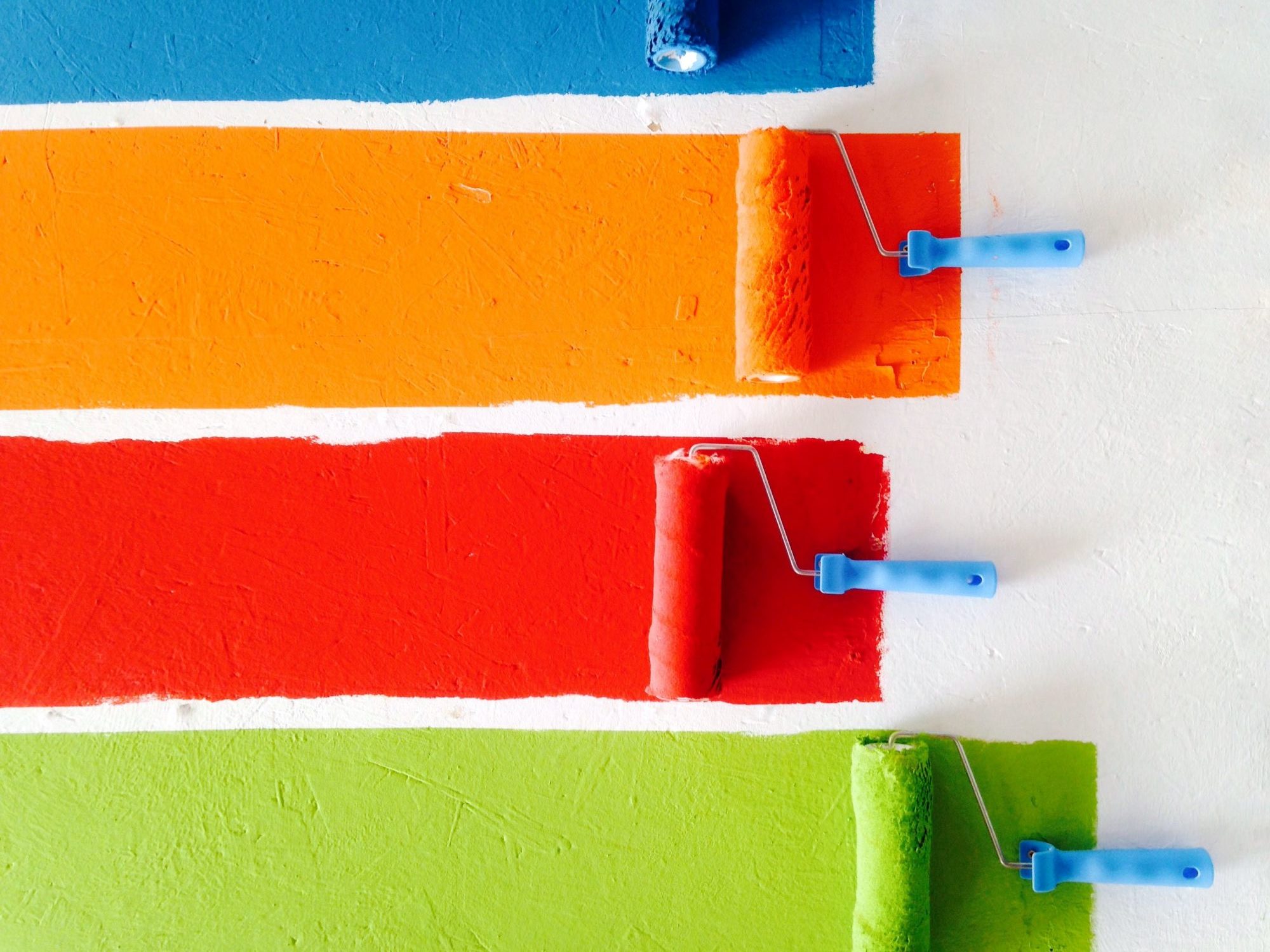 If you want to add some joy to your life, your walls are a good place to start. The color you use in your home can have a strong impact on your mood, making you feel more relaxed or energized, depending on the shade. "Typically, when we think of colors that evoke joy, our mind thinks of yellow," says Sue Wadden, color and trend expert at Sherwin-Williams. "While yellow is the most obvious choice, being bright and sunny, most nature-inspired hues give us the same feeling." Happy paint colors can include any hue that brings out a positive, joyful feeling, including vibrant colors and more neutral shades.
To find colors that make you happy, look to midtones that are located toward the center of paint chips between the deep, saturated colors and soft pastels. Choose a shade you love (you can even mix two or three together), then layer in paler or more intense tones with furniture and accessories. To increase the happiness quotient, include one of the primaries: red, yellow, or blue. These shades are what energize toddlers in preschools, lift spirits in medical centers, and encourage creativity at media companies, Internet startups, and centers of innovation. You've achieved the goal when you step into the space and feel happy.
Happy Living Room Paint Colors
A living room should be a happy place where you greet and gather with friends and family. For your happy color palette, start with small accents, such as throw pillows, lamp bases, photo frames, or area rugs, that feature one or two of the primary colors. Trendy shades like teal, goldenrod, and persimmon, for example, offer a contemporary take on the classic trio. Work these into your scheme in small doses, see how you like them, and then add more. For even more impact, paint the wall above the fireplace or the backs of bookshelves in one of your desired happy colors.
For the walls, Wadden suggests Alabaster SW 7008. This neutral paint color can comfortably cover a large room without overpowering the space. "This soft white has just a hint of yellow that warms it but keeps it neutral," she says. "Perfect for any space, it complements all furniture and decor."
Happy Bedroom Paint Colors
A happy bedroom is a restful one. For this space, turn the volume of happy paint colors down with hushed tones such as blush, soft apple, and faded periwinkle. These muted bedroom colors work well for wall paint because they're visually quieter than jewel tones, for example, which might be too energizing for a space intended for sleeping.
If you prefer a more saturated look, choose one or two hues to keep at full volume and mix in more subdued neutrals. "This welcoming yellow is one of our most popular," Wadden says of Friendly Yellow SW 6680. "It's light, perfect for spaces like a bedroom, where you want to be happy but calm at the same time."
Happy Dining Room Paint Colors
To make a dining room feel happy, yet still sophisticated enough for entertaining, pick variations of happy colors in classic, mature shades, such as crimson, navy blue, or jade green. Decide where you want to let this happy shade play. Is it subtly on dinnerware and accessories, in more forward doses on window treatments and upholstery, or in full view on walls? Wherever you pick, incorporate neutrals and wood tones on the other locations for balance.
"For neutrals, you want colors that are on the warmer side—creamier whites and greiges (gray with a hint of brown)," Wadden says. "Cool neutrals, while modern and chic, can be sterile and bland, which is the opposite of what you want when creating a space that brings you joy." Choose wood elements with rich stains and accessories in warm metal finishes, such as gold or brass, to add warmth and texture.
Happy Kitchen Paint Colors
Bold colors are well-suited for a kitchen, where clamoring activities naturally make it a happy space. Pick the most overt, playful shades of the happy palette: stop-sign red, sunshine yellow, and cobalt blue. When set off against white cabinets and white or dark gray countertops, these shades ring out with clarity, so use them in tempered amounts, such as in backsplash accent tiles, a window valance, or countertop accessories.
Overjoy SW 6689 is one such happy paint color that looks great in kitchens. "Like sunshine in a can, this color instantly brightens up a space without being overwhelming," says Wadden. "It's best for communal spaces, where its cheery vibes will encourage laughter and conversation." If you want to make a bigger statement, paint the island a standout shade to make it an instant focal point.
Happy Bathroom Paint Colors
Some colors that spark joy would be a little jarring if splashed across an entire bathroom. Instead, pick a hue you love and find it in a softer shade for your bathroom paint color. Fans of jewel-toned plum, for example, would love joy-evoking Orchid from Sherwin-Williams. "Like its namesake, Orchid is an elegant purple," says Sue. "It's relaxing and is subdued enough to be used in the whole room if desired."
A bathroom color scheme can work as a trio, or you can pick one shade to apply around the space on walls and accessories. Alternatively, try a duo: Paint the vanity cabinetry seafoam green and accessorize with powder blue hand towels, for instance, or hang a lemon curtain in front of a shower tiled in cobalt blue glass.
Happy Entryway Paint Colors
Let the colors of your entryway set a cheerful welcome for visitors. Examine the adjacent spaces and pick up on a happy hue to pull into your entryway. For example, if you use forest green in your living room, use a midtone of the color (think jade) in your entryway. Pair your happy colors with energizing patterns, such as stripes, and shiny surfaces, such as a high-gloss console table or polished metal hardware. Look for ways to incorporate multicolored items in happy primary colors, such as on a rug or piece of art.
Heller Coley Reed has favorite paint colors too.  Email us at hellercoleyreed@gmail.com or call 240.800.5155 and we'll share our 4 favorite neutrals with you.