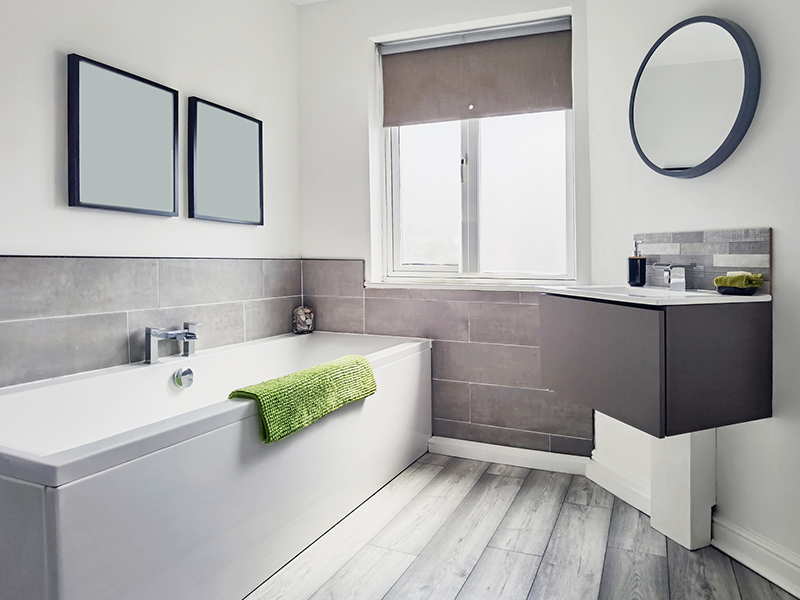 A bathroom in need of refreshing can easily have a makeover without you going overboard on the budget. There's no need for an outright refit as long as your bathroom is in good working order. Check out these valuable tips for budget-friendly condo bathroom improvements below:
Add Storage
Lessen bathroom clutter by providing additional storage. Often,simply organizing your bathroom items can have a drastic overall effect on how the bathroom looks. Storage cabinets, built-in hanging shelves, and wooden baskets are great options to store bathroom needs. These storage items come in different designs to match the bathroom, so find out what type of storage works best for the space.
Paint Bathroom Walls
Tired of the existing color? Follow the 80-20 rule when choosing the right bathroom color. Give it an updated look with dominant colors like off-white, gray, or cream. Make room for accent colors to add a little contrast to the color of the main walls. Done relatively quickly and cheaply without hiring a professional painter, be sure you buy paint suitable for high moisture areas such as eggshell or silk finishes. 
Re-grouting
Re-grouting is a great way to clean up stained and moldy looking bathroom walls. It can be DIY but almost always looks better when done by a professional. If you have chips and cracks on your tiles and want to replace them, it's best to call in the pros, as this can be exacting and time-consuming work. 
Change Hardware and Bathroom Fixtures
Check on the wear and tear of the bathroom and examine what needs replacement. If the faucets are getting old and rusty, or the lighting looks dated, replacing them need not cost the earth, and there's an enormous range of fittings from which to choose. A condo bathroom improvement that not only adds aesthetic value but functionality is to change the showerhead. Modern showerheads come in a range of different styles, and most allow for different types of water spread and pressure.  
Add a Vanity Mirror
Installing a mirror in the bathroom will create the illusion of bigger bathroom space. That's why almost every 5-star hotel will feature massive bathroom mirrors. Multi-purpose mirrors are helpful space savers when limited bathroom space is a concern. They function as a vanity, medicine cabinet, or toiletry cabinet storage.  
Update Bathroom Fabrics
Add personality to the bathroom without doing any major home upgrades by updating fabrics. Shop for new shower curtains and replace the curtain's plastic rings with metal rings. Soft rugs and minimalist carpets can help create a soft welcoming space. Try placing plush cotton towels on towel racks or wooden ladders too. Searching for a new property in Washington, D.C.? The realtors at Heller Coley Reed of Long & Foster Real Estate will be glad to assist you with your real estate needs. Call today at 240.800.5155 or send a message here.