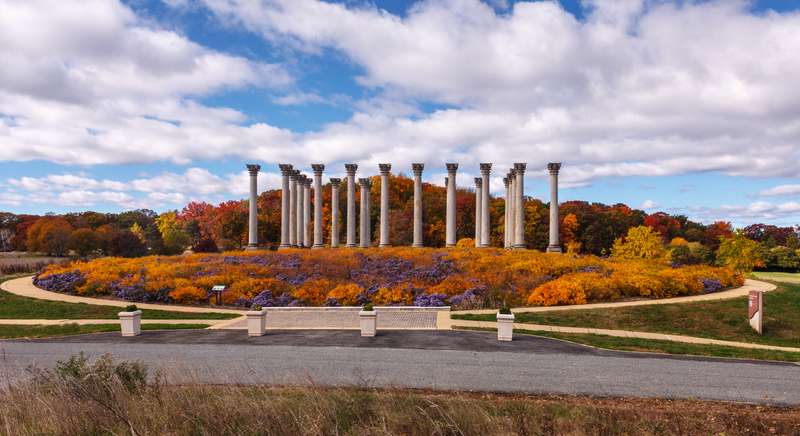 Sweaty Washingtonians, rejoice, for fall is finally here. While summer in DC is packed with fun things to see and do, it's tough to fully enjoy it all when you feel like you're wading through a pool every time you walk outside your door. Autumn is when the city really shines, anyway. Humidity is replaced with cool, crisp air and the leaves on the trees start taking on some stunning colors.
The weather is warm enough that you can spend all day sipping glasses of vino outside at a Virginia winery or picking out pumpkins to carve at a nearby farm. Spooky season also means activities like corn mazes, ghost tours, and Halloween costume shopping are back, which we can collectively agree is one of the best things about fall. So, from leaf peeping to fireside drinks, here are some actually cool things to do in DC this fall.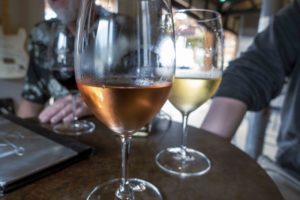 Visit a local winery
Multiple locations
There's nothing better on a sunny fall afternoon than taking a tour of a gorgeous Virginia or Maryland winery before popping open a bottle with friends. Despite there being more than 380 wineries in the two states, the best ones stay consistently busy all summer long, making fall the ideal time to check out some of your favorites without dealing with crowding. So hit the road and check out Big Cork Vineyards, Black Ankle Vineyards, Boxwood Winery, Three Fox Vineyards, and others that are located just outside of DC. Less crowded tasting rooms also mean that staff and winemakers have more time to answer any questions you might have about the wines, or give detailed suggestions so that you can find your new favorite bottle. Some wineries also put on fun fall events, or have fireplaces roaring for extra coziness.
Have a drink by the fireplace
Multiple locations
There's just something so nice and comforting about enjoying a cocktail by the fireplace. Fortunately, there are tons of bars and restaurants in which to do so in DC, like the historic Tabard Inn where they even have a Fireplace cocktail menu. Iron Gate is another great place to enjoy a drink or meal by the fire, or Plume inside the Jefferson Hotel. In fact, most of the swanky hotels in the city have fireplaces to sit by, like The Living Room at the Ritz-Carlton, The Melrose, or the Conrad which all have lobby or patio fireplaces.
Grab coffee and walk around Meridian Hill Park
Columbia Heights
Sometimes simple activities are actually the most fun, like meeting up with a friend for a walk around the park. Next time you're fidgeting at your desk with perfect weather outside, give yourself a well deserved coffee break by grabbing a cup from La Colombe or Philz Coffee in Adams Morgan and making your way over to Meridian Hill Park for a walk. During the fall the park's trees are transformed into a colorful display of yellow, red, and brown, and guaranteed that around lunch time there will be tons of dogs to pet.
Try a change of scenery
Multiple locations
If you're still working from your apartment in the District, you're not alone. Those days posted up on your couch or makeshift desk can become daunting, so this fall, opt for a change of scenery and work from one of DC's best coffee shops. From cut neighborhood spot Elle to Farmer Fishers Bakers, which some may not know is open during the week with cheap breakfast for early birds, there's enough WiFi and outlets for everyone.
Pick pumpkins and apples at a farm
Multiple locations
Is it even fall if you haven't gone apple picking yet? An iconic fall activity—apple picking might seem overdone or cliche, but honestly you should just lean into it. Great for a big group or a cute date, it's also just the perfect excuse to get out of the city for an afternoon and into nature. There are tons of farms in surrounding Maryland and Virginia to choose from, but our picks can be found here.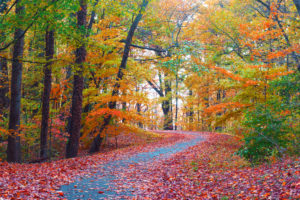 Leaf peep at the National Arboretum
Northeast DC
In search of some quality fall foliage? Look no further than the National Arboretum, which is perfect for leaf peeping, a fall photoshoot, or a combination of the two. The arboretum is free to enter, which means there's no reason you shouldn't check it out during the fall if you haven't yet. The colors there are beautiful throughout the season, even in the bonsai garden where you can see the leaves of tiny Japanese maples blush red. The best fall photoshoot location is undoubtedly by the iconic Capital Columns, though, framed by yellow and orange trees and plants.
Take a spooky ghost tour
Alexandria
Sometimes Alexandria can feel so far away from the city, but it's really not. For the full experience, indulge in a weekend staycation there, so that you can explore historic Old Town and the wharf by day, and learn about ghosts at night. If you're looking for a real fright check out the Grief and Ghost Tour at Lee-Fendall House Museum and Garden, which is only open to visitors after dark for two weekends of the year in October. Less scary options include the one put on by Mount Purrnon Cat Café and the tour by Nightly Spirits, which brings you to various bars throughout the evening.
Take a beautiful fall hike
Multiple locations
While hiking during the summer probably had you craving a dip in the pool or a lake, fall hikes are much more bearable. This not only means that you can actually get started during the afternoon as opposed to early morning, but also that you can take on longer hikes without burning out. Those who really mean business can attempt Old Rag—a super challenging hike with a lot of elevation gain, but you'll be rewarded with amazing views if you reach the top. An easier hike that's also beautiful during this season is Great Falls, which is also closer to the city. No matter what your skill level, there's a hike for everyone.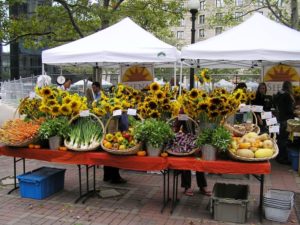 Hit up the farmers market
Multiple locations
Sunday mornings at the farmers market during fall just hit different. Whether you decide to hit the market solo or meet up with friends to get your shopping for the week done together, it's pretty much the perfect way to cap off your week. Bring along a reusable tote for all the seasonal goodies you'll pick up, from honeycrisp apples and spiced pear jam to curly kale and butternut squash. There are FRESHFARM markets to be found throughout the city, but arguably the best one of them all is in Dupont Circle every Sunday.
Be the first to try DC's newest restaurants
Multiple locations
With new seasons come new restaurants, and this fall in DC there are a ton of them. Up-and-coming chefs are opening up their own spots for the first time and lauded chefs from up and down the East Coast are making their way to DC to show us what they can do in the kitchen. So check out this fall's most anticipated restaurant openings and get ready to book.
See live music at a concert
Multiple locations
Grab your vaccination card or recent negative COVID test and get ready to hear some live music again after more than a year. Some of our favorite local venues have been reopening, which means it's the perfect time to go out and support them (if you feel comfortable being in a crowd). The iconic 9:30 Club just swung its doors back open after seventeen months, and its sister venues The Anthem and Merriweather Post Pavilion are open now as well. Shows are back on at City Winery, and massive electronic music venue Echostage was just named the world's best nightlife venue.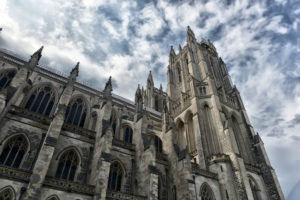 Stroll the grounds of the National Cathedral
Cathedral Heights
Those who spend most of their time downtown might not think to venture north to the National Cathedral, so we're here to tell you that it's worth the trip. While the cathedral itself is still closed for public safety reasons, the 59 gorgeous acres surrounding it are now reopened to the public, from dawn until dusk each day. Bring a date, some friends, or even your pet and take a scenic walk through areas like the Bishop's Garden and the Olmsted Woods.
Shop (and eat) your heart out in Georgetown
Georgetown
Despite being DC's oldest neighborhood, Georgetown remains one of the best areas of the city to spend time in—especially on an afternoon with optimal walking weather. Grab your morning brew at Grace Street Coffee Roasters or enjoy brunch al fresco at the euro-centric Kafe Leopold before strolling your way down M Street for some quality shopping, where you can find storefronts from big retailers like J.Crew or the more trendy Outdoor Voices and Reformation. You can even pour your own custom candle to take home with you at Paddywax Candle Bar.
Appreciate art and landscape at Glenstone
Potomac
Glenstone is technically about a 40-minute drive outside of the city, but it's a quick and scenic trip that delivers you to nearly 300 acres of beautiful landscape, sculpture, and other art. A privately-owned gallery, the now-reopened Glenstone is always free but a reservation is necessary and slots can book up well in advance. Arriving there, you'll feel a million miles away from the hustle and bustle of the city—surrounded by nature and in an artsy world of your own (it's also the perfect place to grab a pic for the 'gram).
Get some laughs out at DC Improv
Dupont Circle
For the last year we've been recommending improv shows by DC Improv that you can watch online. Now, the time has finally come that you can grab a friend and see a show in person, as the city's most notable comedy club has reopened as of mid-April. Make sure to snag your tickets early, though, as only 50 are available for each performance.
Grab some grub from Union Market
Union Market
Everyone's favorite food hall is back open with outdoor seating, which means that you can now grab fusion tacos from Takorean, an acai bowl from South Block, and a burger from Lucky Buns (all at the same time if you're feelin' it). Those craving a cold beer or a little bit of sunshine can also head up to Hi-Lawn on the rooftop to hang for a while on the grass or at a picnic table.
Tap into mindfulness with the Freer Gallery of Art
Online
We could all use a little bit of meditation and mindfulness in these trying times, which is exactly what you can get four times per week from the Freer Gallery of Art. Tune in online to access regular event programming that'll help you channel some much-needed inner peace for 30 minutes each session.
Find a new (stack of) books to read
Online
Capitol Hill Books is back open for leisurely afternoons perusing the stacks. But if you'd rather explore from home, the bookstore is now mailing out "Grab Bags" perfect for a fall bookshelf refresh. Just fill out their form, including your budget and authors or genres you like, and they'll send over a picture of a proposed stack of books. Thrill seekers can even go with a blind stack for what they call "the full mystery effect."
From Thrillist and Austa Somvichian-Clausen