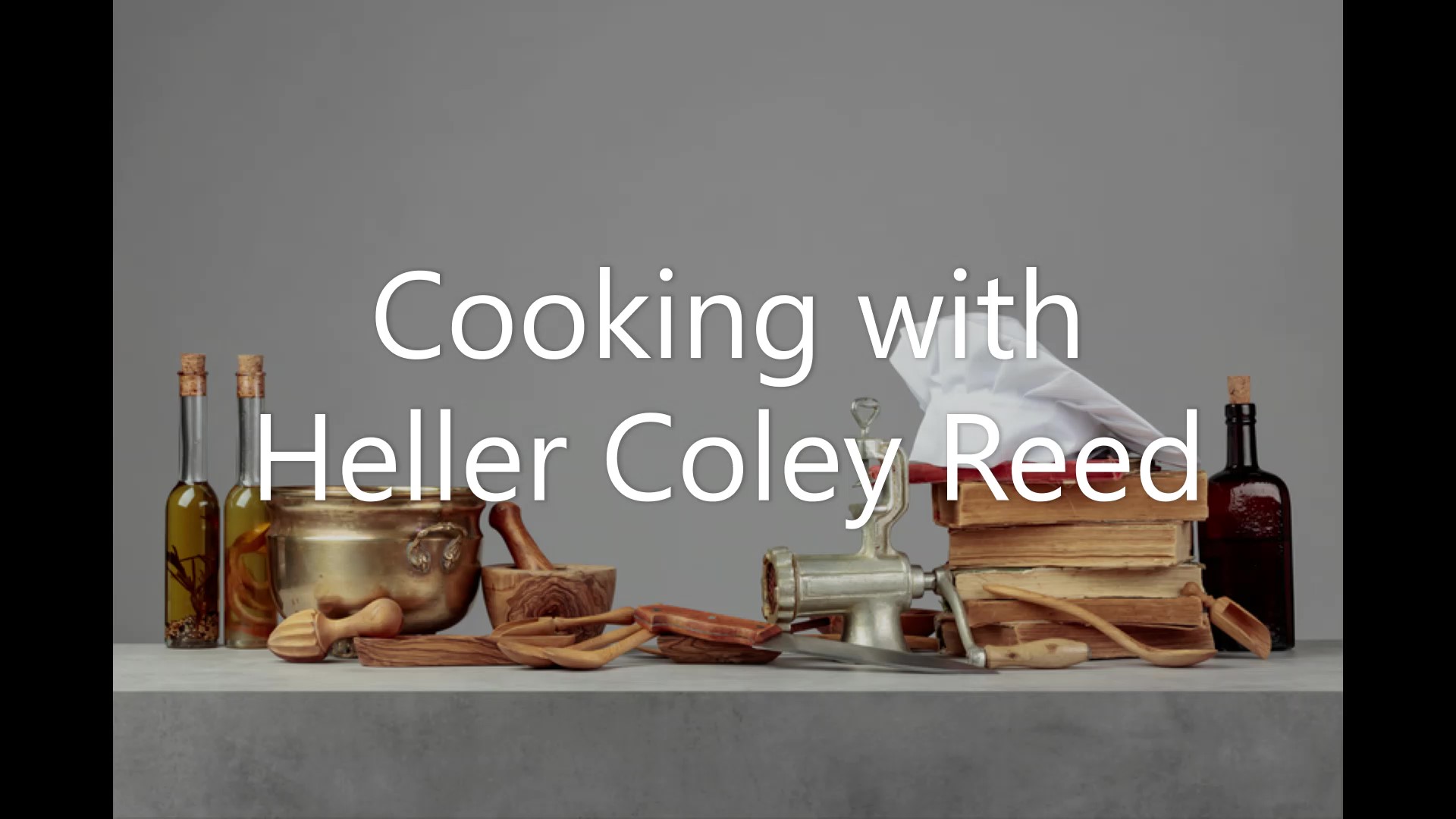 Welcome to Cooking with Heller Coley Reed!
The recipes below are from Heller Coley Reed agents, admin staff, and principals, and have been made with love countless times for family and friends. Just in time for holiday celebrations, the recipes featured below are easy and tasty.  We hope you enjoy making and eating them!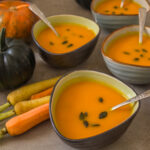 Roasted Acorn Squash Soup
Ingredients:
4 acorn squash
3 carrots, sliced into chunks
1 onion, quartered and quartered again
2 TBS butter
1 TBS flour
1 tsp salt
1/2 tsp pepper
1 32 oz box chicken broth (or homemade, if preferred)
1/2 cup sherry
1/2 tsp freshly grated nutmeg
1/8 tsp paprika
dash ground allspice
dash cayenne
1 cup 1/2 & 1/2
Extra virgin olive oil (EVOO)
salt & pepper
pepitas, for garnish
Directions:
Heat oven to 375. Cut squash into halves lengthwise and remove seeds.
Place squash in roasting pan, cut side up. Drizzle with EVOO, season with
salt & pepper. Roast, uncovered, for 20-30 minutes or until tender. Let sit
until cooled. Spoon pulp from squash carefully *(see Notes below), and
set aside in a bowl.
While squash is roasting, place carrots and onion in a sauce pan; cover
with water. Bring to a boil, cover, reduce heat and simmer 15 minutes or
until veggies are tender. RESERVE 3/4 to 1 cup vegetable water. Drain
vegetables and combine in batches with squash pulp and reserved veg
water in food processor. Process until smooth and set aside in large bowl.
Melt butter in a large Dutch oven over low heat; add flour, s & p, whisking
until smooth. Cook 1 minute, whisking constantly. Gradually add pureed
vegetables mixture, chicken broth, and next 5 ingredients; bring just to a
boil. Cover, reduce heat, and simmer gently for 1 hour, stirring
occasionally.
Stir in 1/2 & 1/2.  ** Cook until heated through. Serve garnished with pepi-
tas, if desired.
NOTES:
* I serve the soup in the reserved roasted squash shells instead of bowls.
Place the empty shells in the roasting pan and cover with plastic wrap to
hold until serving. Refrigerate the shells if not serving the same day.
** This recipe lends itself very well to making a day or two ahead (even
freezing) but wait to add the 1/2 & 1/2 until you are reheating the soup to
serve.
——————————
"My 39-yr old son won't come to my house for Thanksgiving if this soup
isn't on the menu. And he takes the leftover soup home with him! I almost
always double the recipe as a result. But I don't tell him that!"
——- Lisa Clark
Cheese Sables
Ingredients:
2 cups (9 oz) unbleached all purpose flour
1 tsp salt
1/8 tsp cayenne
1/8 tsp baking powder
14 TBS (7 oz) cold unsalted butter, cut into chunks
1 1/2 cups (3 1/2oz) finely grated sharp Cheddar
1/2 cup (1 1/2 oz) finely grated Parmesan cheese
1 large egg, lightly beaten
1/2 cup finely chopped pecans or walnuts (optional)
1 egg yolk mixed with a pinch of paprika and 1/2 tsp water, as a glaze
Kosher or sea salt, for sprinkling
Directions:
Put the flour, salt, cayenne and baking powder in a food processor. Pulse
to combine. Add the butter and pulse again until the butter is in small
pieces, six to eight 1-second pulses. Add the cheeses, pulse again, and
finally, add the egg and pulse until mixture just starts to come together.
Dump the dough on an un-floured surface. Sprinkle nuts (if using) on the
pile of dough. Knead by lightly smearing the ingredients together as you
push them away from you with the heel of your hand until the dough is
cohesive. Shape the dough into a flat disk, wrap in plastic, and chill for two
or more hours to let the butter firm.
Position racks in the top and bottom thirds of the oven. Heat the oven to
400. On a lightly floured surface, roll out the dough to about 1/4" thick.
Stamp out shapes or cut shapes with a knife. Arrange 1" apart on two ungreased
baking sheets. Re-roll scraps once and stamp again.
Brush the slices with the glaze and sprinkle lightly with the finishing salt.
Bake until golden brown and thoroughly cooked inside, about 14 min,
rotating the baking sheets from front to back and top to bottom about
halfway through. To test, break one in half and look to see if the center still
looks doughy. If so, cook for a few more minutes, but be careful not to over
bake. Let cool on a rack and store only when completely cool.
Yields approx 43 2-inch hexagons, plus scraps. The dough keeps for two
days in the fridge, and for months in the freezer (thaw in fridge before
using).
——————————
"Every year, Heller Coley Reed is proud to be one of the sponsors of the
Palisades Village House Tour in NW DC. The first year we participated,
there was a food tent and local musicians in the park at the end of the day.
Sort of potluck, volunteers brought food to share. These savory cheese
snacks had a little bite and were addictivve, and after 4 years of begging for
the recipe, I am now able to share!"
——- Leigh Reed