The pandemic has changed our lives in every way imaginable. And being at home in "lockdown" mode for so long caused many homebuyers to rethink what they want in a home. Just as we learned (at least some of us did) how to cut our own hair, we also had to figure out ways to recreate those experiences we loved so much at our favorite restaurants, spas, and other establishments. Armed with this knowledge, buyers now know what they want to see when post-COVID house hunting-and they're searching for features that will allow them to create the best at-home experience.
So what do prospective buyers want when shopping for a house this year? We contacted Zillow, the National Association of Home Builders (NAHB), and several expert realtors to find out which features homebuyers are demanding in 2021 and explain why these are must-have home features right now.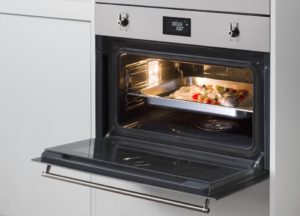 1 – Steam Oven
According to Amanda Pendleton, home trends expert at Zillow, homeowners want a luxury kitchen, and specifically, they want a steam oven. "A steam oven uses hot steam, instead of hot air to cook food," she explains. "It's considered a healthier way to cook since it allows food to hold on to its nutrients and eliminates the need for oil."
In fact, Pendleton says homes with a steam oven sell for 4.9 percent more (it's the top feature on the list!), and she explains that a home that has a steam oven is a signal to buyers. "They know the home has a larger, updated, high-end kitchen with all the bells and whistles you would expect in a chef's kitchen-and that's what buyers are ultimately willing to pay more for." To keep up with the demand, many appliance brands, including Smeg, are expanding their appliance lines to include steam ovens.
2 – Curbless Shower
A curbless shower is one that doesn't have a barrier to step over, and it's in second place on the list of features that bump up a home's selling price. "Buyers are increasingly interested in spa-like features and luxury bathroom amenities that allow them to relax and recharge at home," Pendleton explains. On average, homes with curbless showers sell for 3.6 percent more than those without.
According to Bill Golden, a realtor/associate broker at RE/MAX Around Atlanta, Ga., this feature is popular with his baby boomer buyers. "They're looking at features with an eye to the future when they're buying," he says. Curbless showers reduce the risk of falls and injuries for seniors, plus they're more accessible to those in a wheelchair, especially when paired with a wide shower door. "Also, nice, big showers have way surpassed tubs as must-have items in a master bath, and I expect we'll see more and more showers go curbless as homeowners rip out tubs and use the space for larger, nicer showers."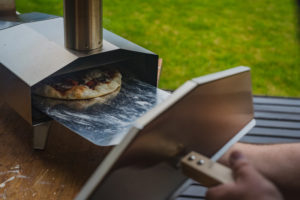 3 – Pizza Oven
Want to know how popular the search term "pizza oven" is in real estate this year? "We saw 'pizza oven' jump 41 spots on our list this year from last to fourth place," Pendleton says. This has always been a popular feature with millennials, and now, Pendleton explains that they make up the majority of first-time homebuyers. "And we all spent so much more time at home this year that we came to value the features that allow us to create special, elevated experiences at home, and pizza ovens deliver that wow-factor."
The popularity of a pizza oven doesn't surprise broker Gerard Splendore at Warburg Realty in New York City. "Pizza ovens are in demand as home delivery of take-out food can introduce outside 'forces' via a delivery service or person, the exchange of credit cards or cash can transfer germs," he explains. "And since dining out wasn't permitted in most places, delivery times for take-out pizza increased." This perfect storm of factors has caused homes with a pizza oven to sell for 3.4 percent more.
4 – Modern Farmhouse Style
Anyone who has watched home improvement TV shows understands the appeal of the modern farmhouse style, and Pendleton says this trend is still hot with buyers. "They may not want a real fixer-upper, but they want the finished product, and laid-back modern farmhouse style appeals to many buyers, particularly those with young families," she explains. In 2021, homes with modern farmhouse style sell for 3.6 percent more.
"God help us, this trend does not seem to be going away-it's everywhere in new construction, and even remodeling projects are transforming other styles into the modern farmhouse style," Golden laments. While he admits it's a hot trend, Golden believes it's going to date houses in a few years.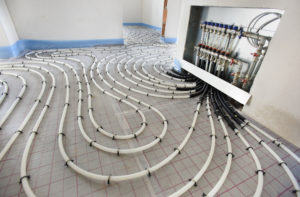 5 – Heated Floors
According to Zillow, homes with heated floors sell for 3.2 percent more. "Self-care is more important than ever, and that's being reflected in the sale premiums associated with spa-inspired bathroom features," Pendleton says.
But real estate agent Karen Kostiw at Warburg Realty in New York City is wondering what took the rest of us so long to get onboard. "Heated floors, commonly known as radiant heating, are not a new concept, but are gaining more popularity with today's home buyers," she says. "Not only does it provide clean and allergen-free heat, it is energy-efficient and provides an extremely comfortable heating source versus vented heating." In addition, Kostiw notes that radiant heating can be left at a constant temperature all winter. "So, it provides a consistent heat and actually will result in a lower heating bill."
6 – Laundry Rooms
According to a nationwide survey of recent and prospective homebuyers conducted by the National Association of Home Builders, 87 percent of respondents wanted a laundry room, making it the most-requested feature on their list.  "Laundry rooms are essential/desirable because they allow homebuyers to keep all the messiness associated with doing laundry-like piles of clothes on the floor, piles of clean clothes in baskets-behind a closed door and out of sight," explains Rose Quint, AVP of Survey Research at the NAHB. Some people, especially those who rent or have a small space, may be doing laundry in their kitchen or another shared room, and now that they're home all day, Quint says they're tired of looking at these piles of laundry.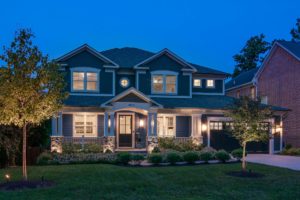 7 – Exterior Lighting
Exterior lighting was a feature that landed on both Zillow and the NAHB's lists of the most in-demand home amenities for 2021. "Exterior lighting is important both for aesthetic and security reasons-they add curb appeal while adding another level of security to the home," Quint says. In fact, 87 percent of buyers in the NAHB survey listed exterior lighting as the second-most-wanted feature.Pendleton agrees, adding that outdoor space became a luxury during the pandemic, so it's no surprise that it would help a house sell for more than expected.
"And more than anything, buyers appear to be looking for more functional outdoor space, so they're valuing features that allow them to better enjoy the outdoor space they have, and that includes outdoor lighting."
8 – Ceiling Fans
According to the NAHB survey, 83 percent of buyers wanted ceiling fans in their homes. "Ceiling fans help make rooms more comfortable in the summer, and they are a relatively inexpensive way to try to keep cooling costs lower," Quint explains.  And that comes as no surprise to broker Svetlana Choi of Warburg Realty in New York City. "Ceiling fans are now and have always been an excellent feature, most especially in the heat of the summer," she says. "Using fans is a wonderful way to enhance air conditioning, making it possible to use air conditioners efficiently and at a reduced cost, but still keep the air cool and reduce the humidity in many corners of a home."