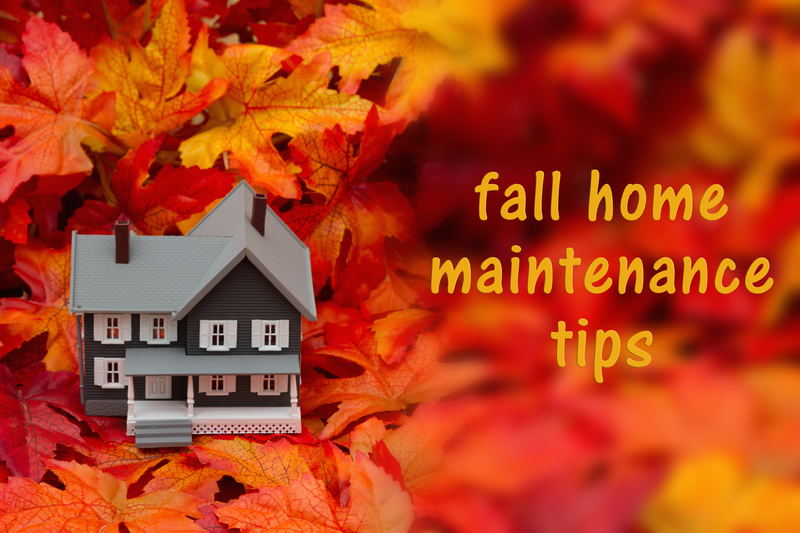 Fall is here and it is time to prepare your home for the approaching cooler weather. Getting your home into tip-top condition now can save you money and lots of headaches later. Read these 12 Tips For Fall Home Maintenance and then start a checklist of items that you need to tackle right away.
1. GUTTERS
After most of the leaves have fallen from the trees around your home, have the gutters cleaned. All leaves should be removed and then the gutters and downspouts should be flushed, and all joints inspected. If the gutters are damaged, have them repaired or replaced. Clogged gutters can form ice dams in the winter: ice forms, then melts, and ultimately backs up into your house causing significant and costly damage.
2. INSULATION AND WEATHER-STRIPPING
Sealing air leaks and adding insulation not only makes your home more comfortable and energy efficient, it can also provide up to a 15% savings on your annual heating and cooling costs. Simple fixes include installing weather stripping on doors, caulking around windows, and adding insulation in your attic, crawl spaces, and basement. Various types of insulation that can be installed throughout your home including blanket, blown-in or loose-fill, sprayed or foamed-in-place, and rigid insulation.
3. ROOF
Have your roof inspected for missing or loose shingles, or any other damage, and have any necessary repairs completed well before the cold weather sets in. Rain water or melting snow can enter your home when your roof is not properly maintained and that can lead to leaks, mold, and unexpected expenses for you.
4. CAULKING AND PAINTING OR STAINING THE EXTERIOR OF YOUR HOME
One of the least expensive ways to prevent moisture from creeping inside your home is to caulk where exterior materials meet (i.e., where the brick abuts the siding), or where pipes and wires enter your house.
If you see peeling paint or fading stain on the outside of your house, that is an indication that the siding or wood shingles underneath are no longer fully protected. Check to see if there is any damage to the siding or shingles, make all necessary repairs, and apply paint or stain. A fresh coat of paint or stain is aesthetically pleasing and can also prevent further deterioration of the exterior of your home.
5. FOUNDATION, DRIVEWAY, STEPS, WALKWAY, AND PATIO
Check your driveway, steps, walkways, and patio for cracks that can expand and cause tripping hazards and problems in the snow. Also, inspect your foundation for cracks that can allow water to flow into your home when ice melts or when it rains.
6. DECK
Have your deck sealed to protect the wood in the harsh winter weather. Also, have the railings and supports inspected to make sure they are secure and meet safety standards.
7. HOSES, SPIGOTS, AND SPRINKLER SYSTEMS
Right before freezing temperatures set in, turn off your outdoor water supplies from inside your home. Then, disconnect all of your garden hoses and drain your outdoor spigots. If you have an in-ground sprinkler system, have a professional drain the pipes and get the system ready for winter. Frozen water can expand and break pipes, leading to expensive repairs.
8. CHIMNEY AND FIREPLACE
Hire a professional to inspect, and if necessary, clean your chimney and fireplace. Clogs and build-up can lead to a chimney fire.
9. HEATING AND COOLING SYSTEM
Have your heating and cooling (HVAC) system inspected by a licensed professional to make sure it is working properly. Detecting problems now can prevent your family from shivering inside your home when the system fails on the coldest day of the year and the service professionals are overbooked. Also, make sure you regularly change the air filters to keep your HVAC system working properly throughout the year.
10. SUMP PUMP
Test your sump pump by slowly pouring water into the pit to make sure the pump turns on. You don't want to find out that it isn't working in the middle of a storm when water is backing up into your basement. If necessary, have it repaired.
11. HUMIDIFIER
Check to see that your home's humidifier is clean, in good condition, and working well so that your family is comfortable in the dry, winter air.
12. SMOKE AND CARBON MONOXIDE DETECTORS
It is always a good idea to test your smoke and carbon monoxide detectors at the beginning of each season to keep your family safe. Ensure that they are working properly, replace the batteries, and vacuum the units' vents to remove dust build-up.
Alexa Lerner, Meridian Homes