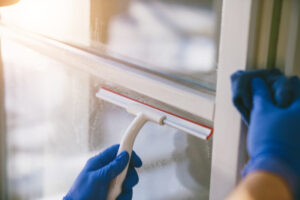 Window washing is one of those tasks that linger near the bottom of many homeowners' to-do lists. But as any of us who finally get around to it will attest, clean windows make an enormous difference in everything!
It's a fact: Remove that layer of grime from that glass, and you let more light into your home. If you're trying to sell your home, that extra sparkle on those window panes adds curb appeal in spades.
So what are you waiting for? Find an hour or two, gather your tools, and let's do this. Here's how to clean windows the right way.
Window cleaning supplies
Once upon a time, homeowners used newspapers to clean windows, notes Mim King, a professional organizer based in Lexington, KY.
"But unlike the old-fashioned ink on papers from years ago, today's news isn't as good at getting your windows really clean," she explains. (Let's not even get into the fact that most people now consume their news online. Let's just see you try to clean a window with a Galaxy Note5.)
Instead, strong paper towels are King's first choice for cleaning windows, along with squeegees in a few different sizes. Chamois and old rags are a close second. You'll also need sponges, a bucket, and a ladder or footstool for hard-to-reach windows.
DIY window cleaning solution
Commercial window cleaning solutions like Windex are fine, but you can also make your own—thereby skipping the mystery chemicals and helping you save a few bucks. It's smart to be green when you're washing windows, says Julie Coraccio, a professional organizer in Raleigh, NC. For a DIY cleaning solution, mix 2 cups of water, 3 tablespoons of white vinegar, and half-teaspoon of vegetable-based liquid dish soap and store it in a spray bottle.
"I also like to put in a few drops of essential oil like lavender or lemon for a nice smell," she adds.
The secret to clean windows is to start by scrubbing the entire window with a damp sponge dipped in a solution of water and liquid soap, paying particular attention to the edges, dividers, and sills. Next, use a paper towel to polish the glass, using more cleaning solution as needed, or take up your squeegee and run it carefully over the glass, wiping the blade after each pass.
"For seriously dirty windows on the outside of your home, wash the top layer with a bucket of soapy water and spray with a garden hose," suggests King. Then follow up with Windex and paper towels or a squeegee dipped in your solution.
The best time to clean windows
Whether to wash your windows on a cloudy or sunny day is a matter of frenzied debate in the cleaning/organizing community. King likes to tackle hers when the sun is out so she can easily spot and remove the streaks. Other professionals choose overcast weather so the sun doesn't dry the soap solution before they have a chance to remove it. Try experimenting to figure out what works best for you.
How often you should clean windows
Most homeowners can get by cleaning their windows twice a year, although it depends on the climate and weather. If you live near the ocean, salt can corrode your windows, so you should clean them once a month. Of course, if you're hooked on that sparkle, then go ahead and clean more often—consider it a low-cost way to make your home look its best.
realtor.com