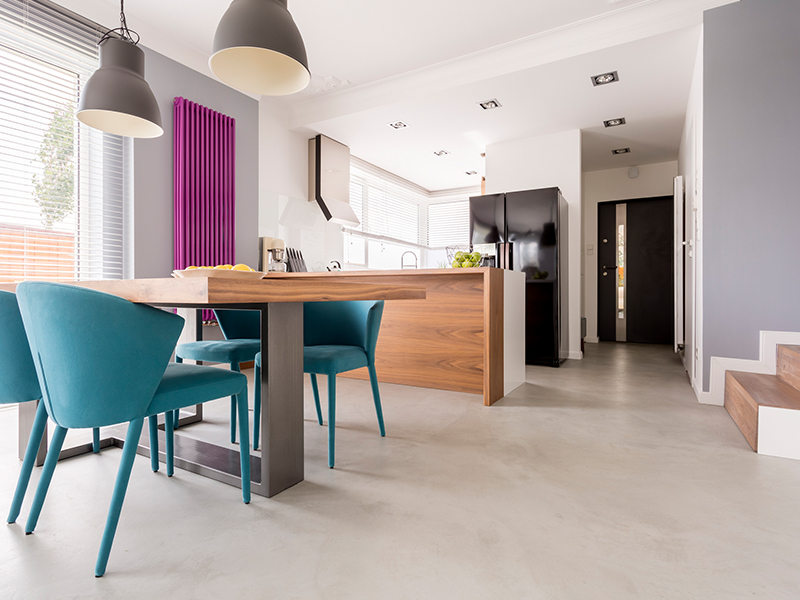 Ready for a condo makeover? Plan what interior design would look great for a luxury condo in Washington, D.C., with these up-and-coming trends. Here are some helpful luxury condo interior design ideas to get the makeover started this 2023:
Play around with wavy stripes, curves, and round edges
Fun and vibrant designs are one of the key trends of 2023. Decorate luxury condos with wavy stripes, curves, and rounded edges by incorporating these trends on accent tables in a living room, or try a half-moon-shaped kitchen countertop. Other home decor pieces to consider are asymmetrical mats and customized wavy mirrors.
Try prints and bold accent walls
Wallpapers and art deco are making a comeback for 2023. To accentuate a room, install decorative wallpapers on one side of the wall. Go heavy on prints, or choose a bolder color palette like red, violet, or green. Whether prints or bold colors, add a little extra when designing luxury condo interior wall design for 2023. 
Have a statement piece ready
A statement item creates a focal point in a room. Try a mural hanging beside a wall-mounted sconce to direct a viewer's interest to that point. You can create another focal point by placing a statement chair in a living room with an exciting shape and color. Asymmetrical pendant lights also serve as a statement piece option that suits 2023's fun and energetic interior design theme.
Place earth-toned furniture
For natural warmth, on-trend shades are chocolate brown or dark green. Earth-colored sofas work best, especially when paired with bright and wavy pillowcases to create contrast. An earth-toned statement chair also goes well with light-colored furniture pieces.
Shop for textured fabrics
Adding saturated or bright colors and textured fabrics also make the 2023 trend. Shop for nubby throw pillows, curtains, and blankets, and don't be afraid to get artistic with mixing and matching. Linen fabrics or knitted pieces are the most common home decor fabrics. For luxury home decor, silk fabrics work great on bedsheets and quilt covers.
Install wood porcelain tiles
Wood porcelain tiles are a type of flooring that won't go out of style. In a neutral color, this flooring easily blends with any furniture, statement piece, or appliance. Porcelain tiles work well for luxury home decor, and as they are water and stain-resistant, they can withstand spills and accidents no matter how many parties you hold.  
Choose dark kitchen countertops
Dark countertops of granite or quartz are pieces to look forward to in 2023 kitchen design. These stone countertops are durable and don't easily chip, crack, or scratch. The balance of having light and dark shades is another trend in the new year. Consider installing lighter colored cabinets and handles to give the kitchen a new, sleeker feel. 
Look for the best properties in Washington, D.C, with the team of experienced and knowledgeable realtors at Heller Coley Reed of Long & Foster Real Estate.  Call them now at 240.800.5155 or send a message here.