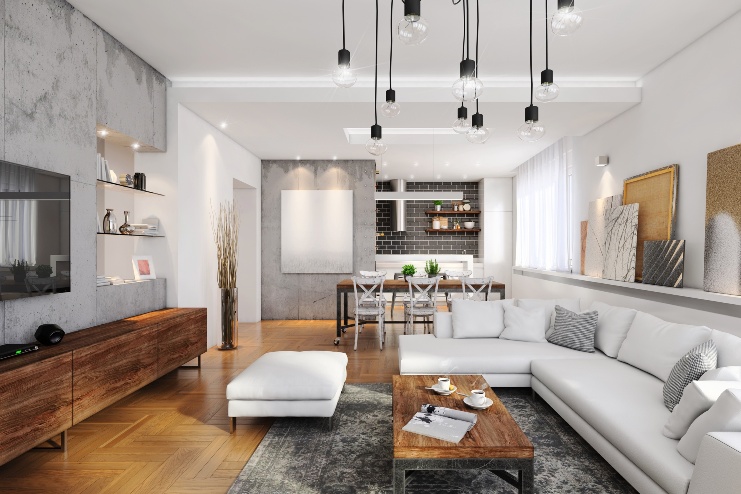 One of the most challenging aspects of selling a condo is making it stand out among the many other condos for sale in Bethesda. If you want to have the edge, consider staging. With the right lighting, great décor, and other design upgrades you can shine a spotlight on your condo and enhance its appeal.
Stage your condo the right way with these tips from expert Bethesda real estate agents, Heller Coley Reed of Long & Foster.
Tip #1: Lighting is key
Excellent lighting will take your condo to the next level and bring it to life. Maximize your condo's natural lighting by opting for lighter draperies or removing of window treatments altogether. Letting more natural light in will make your condo look and feel more spacious.
Upgrade your property's interior lighting even further with brighter LED bulbs and strategically placed lamps. Add stylish yet understated light fixtures or track lighting to illuminate the room without overwhelming the space.
Tip #2: Maximize the space
When staging, it is easy to overload your condo with furniture to make it look better. However, know that in this particular instance, less is definitely more. The best way to maximize the space is by avoiding bulky furniture and opting for more scaled-down amenities.
Store some of your furniture to free up space and make your property feel more open. Or you can also rent furniture with the right proportions to really make the most out of the space.
Also, consider the flow of the condo. Make sure the space is easy to navigate and that there's a clear path through the property.
Tip #3: Choose neutral colors
Appeal to a wide range of buyers by turning to more neutral hues. This will make buyers see the property as a blank canvas. As a result, it becomes easier for them to imagine themselves in the property.
Do away with bold color schemes and opt for light, subtle shades. Gray, light blue, beige, and other warm-tinted colors will make your condo feel homey yet elegant. Avoid stark whites because it could give off a sterile feel. Heller Coley Reed has four neutral shades of paint that are the go-tos when properties are undergoing remodeling, renovations or staging. Be sure to ask your HCR agent for those colors.
Tip #4: Declutter and depersonalize
Decluttering and depersonalizing your condo are essential things to do when staging. Remove any knickknacks, unnecessary décor, magazines, and the like from your shelves and countertops.
When depersonalizing, store family photos, trophies, awards, pet toys, and other items that have your family members' names on them. Make sure the property still looks welcoming and lived in. Strike the balance between orderly and inviting.
Tip #5: Pictures are worth a thousand words (and more!)
Last but not the least, when your condo is market-ready your agent will set up the appointment to have your condo professionally photographed. This is where all that time and effort spent readying and staging your condo for the market will be rewarded.
Most buyers look for homes online. Photos of your property can make or break a sale. Getting your condo photographed by a professional will help enhance its features and show it in the best possible light.
Ready to put your Bethesda condo for sale? Get in touch with Heller Colley Reed of Long and Foster! Contact them by calling 240.800.5155 or 301.674.2829. Or send an email to HellerColeyReed(at)gmail(dotted)com.