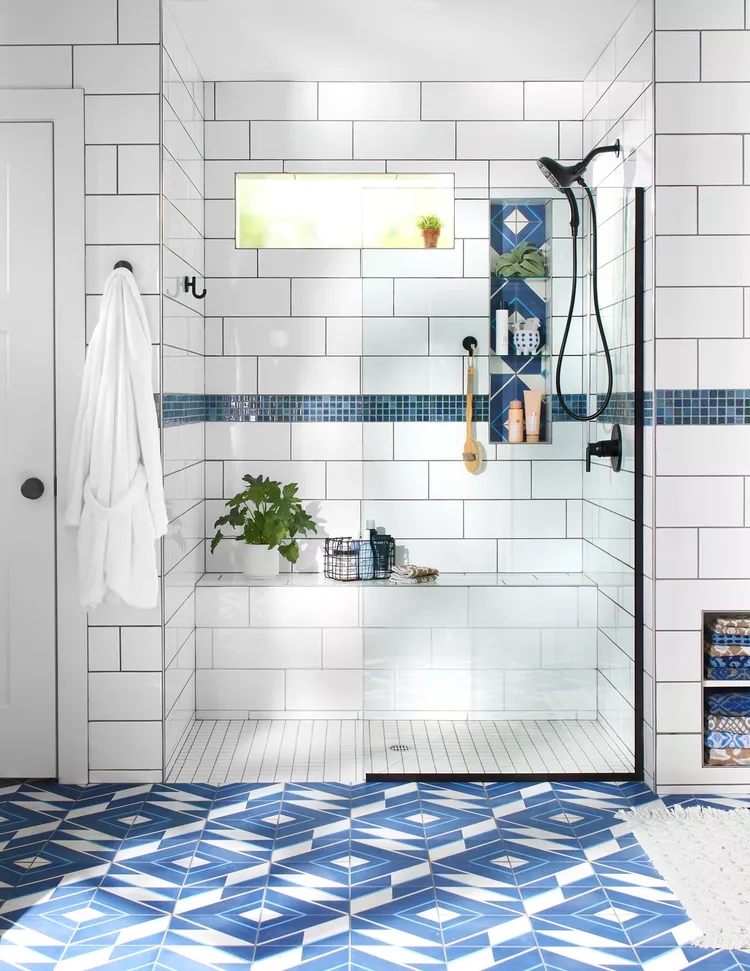 Aging in place isn't just a matter of deciding to stay put: You also need to make sure the space you're staying in is safe and accessible.
If you've decided to age in place or help a loved one to age in place, then you're likely facing a long list of home improvement projects to make that dream possible. It can all seem overwhelming—particularly if you're also balancing health or financial concerns—but preparing a space for aging in place doesn't have to be as complicated as it seems at first look, and there are many benefits that make it well-worth the effort, one of which is that many people simply prefer to stay at home.
"According to an AARP study, about 77% of people polled over the age of 50 said they wanted to remain in their homes for the long term or age in place," says Medical Guardian's Geoff Gross. "This number, according to the study, has remained consistent for more than a decade."
Beyond personal preference—which is no small consideration—there are also economical considerations involved in making the decision to invest the time and money to prepare a home for aging in place.
"As we get older, it gets harder to get out of bed, up those stairs, in the tub, or get to that top shelf in the kitchen like we used to," says Thumbtack home expert David Steckel. "Aging in place is typically in reference to a decision to adjust your home environment to meet new mobility, safety, and health needs vs. moving to a new home or even to a facility. It's a way to stay in your community with your friends longer and is almost always more cost-effective than moving to an assisted living home."
Luckily, there are common schools of thought when it comes to how to prioritize these projects, beginning with areas of the home that are the most prone to accidents, and experts on home remodeling and aging in place have best practices for going about your to-do list. Here, we share their suggestions for which projects you should prioritize for safety as you make your way through that aging in place to-do list.
MEET THE EXPERT
Geoff Gross is the founder and CEO of Medical Guardian, a medical alert and monitoring system company.
David Steckel is a home expert at Thumbtack, a service that connects people with home-care professionals.
Lisa Cini, ASID, IIDA, is an Ohio-based designer and the owner of Mosaic Design Studio, which specializes in senior living.
Susann Crawford is the vice president at Caring, a resource for family caregivers caring for aging loved ones.
Start with the Bathroom
Bathrooms are inherently dangerous for aging homeowners because they involve moisture, which can pose slip and fall risks.
"That's one of the more dangerous areas, so doing some things to make yourself safer in the bathroom is kind of the first place I would start," says Lisa Cini, Ohio-based designer and owner of Mosaic Design Studio.
While some of these upgrades, such as wider doorways to accommodate walkers and wheelchairs, might require intensive work, others are simpler.
Steckel suggests installing grab bars in the shower or tub area. Walk-in bathtubs and showers are also good alternatives because they make it easier to walk into the bathing area by eliminating dangerous curbs. Many walk-in tubs offer seating areas, but you can also install shower stools for added comfort and safety while bathing. Similarly, Steckel suggests vanities with seating, so you don't have to stand to look into the mirror.
Aging in Place Updates for Other Rooms
Gross has a list of other improvements you can make throughout the home, including adding ramps outside to replace steps and ensuring all railings along stairs are secure. You might also consider moving your primary bedroom to the first floor to eliminate the need for using steps all together. Gross suggests additional lighting at the top and bottom of staircases regardless. You can also improve safety by making sure carpeting is secure at the edges of the rooms by using double stick tape.
"The idea is to make the home as comfortable and easy to move around in as possible," Gross says. "Staying safe isn't just for people who want to age in place, it's for everyone."
As you make these upgrades, you might wonder whether there will be a return on your investment. Steckel says it all depends.
"The rule of thumb is to make your home more attractive to the most amount of people," he says. "Because millennials are currently the lion's share of both home buyers and sellers, they will most likely not be motivated by grab bars. However, pull-out pantries and pull-down shelves are great features for all ages."
Bedrooms
Bedrooms are another area of the home where you can take extra care. Steckel suggests adding infrastructure that helps you get in and out of bed easier. That might mean more grab bars, or it could mean a bed of a different height that's easier to get into or out of.  Here, non-slip floors are helpful, as is good lighting.
Kitchens
Kitchens are also areas of the home where accidents can happen with tile floors and slippery surfaces. "Here, most upgrades have to do with height, so you don't have to bend over or get on a stool," Steckel says. He suggests installing pull-out pantries, pull-down shelves, and shallow sinks for better accessibility.
Easy Improvements for Safer Aging in Place
The good news is not all projects aimed at improving your safety around the home require the help of a contractor, or even the use of a power drill.
One of the simplest things you can do at home is remove clutter and other decor that poses trip and fall risks. Start by removing rugs and other floor coverings that can shift or slide.  "Flooring can pose risks; bubbles under carpeting, even chipped tile," says Susann Crawford of Caring. "But the other thing that really gets people with falls is decorating and clutter."
After rugs are secured or removed, look for things like potted plants on the floor and side tables that get in the way of footpaths. Also, keep a close eye on transitions from room to room. If you have steps leading into the house or garage, make sure they're well lit and easy to access.
While installing new lighting might require the help of an electrician, you can start by swapping out bulbs with higher intensity for better visibility throughout the home. Gross suggests something as simple as night lights in various rooms throughout the home to increase visibility at night. Steckel points out that all rooms can benefit from installing levers instead of knobs on all your doors. Levers are easier to use than knobs because they require less dexterity. Many kits at home improvement stores are easy to install yourself.
Finally, consider purchasing smart home upgrades that make life easier and offer peace of mind. Think home security systems that allow family members to keep an eye on on things, or smart thermostats that eliminate the need to get up in order to adjust the temp.
"There are great smart home systems so you don't have to fumble for a light switch," Crawford says. "You can set up routines with them to make life a lot easier."
Gross points out that having these kinds of smart home technologies in place, such as the one his company Medical Guardian provides, can offer an added layer of security as you go about making renovations and lists.
"Deciding where to live or what upgrades to make is a deeply personal decision that can touch every part of someone's life—from retirement funds [to] cost of living and health issues. These decisions take time. If someone is already weighing these options, there's most likely a concern about safely," he says. "A medical alert may be the best first step to ensuring Mom or Dad are safe, while making these bigger decisions."
When to Hire a Pro
If you're having trouble making a list of projects for yourself, you can always start by speaking with a professional. Steckel says many have the expertise to survey your home and make suggestions on which projects to tackle.
"In Ontario, where I'm from, we had aging-in-place training during my AODA standards testing," he says. "Each state will have something similar. And there are companies that specialize in this. You're also going to want to get advice from in-home care professionals and your medical team."
Kristine Gill, Better & Gardens