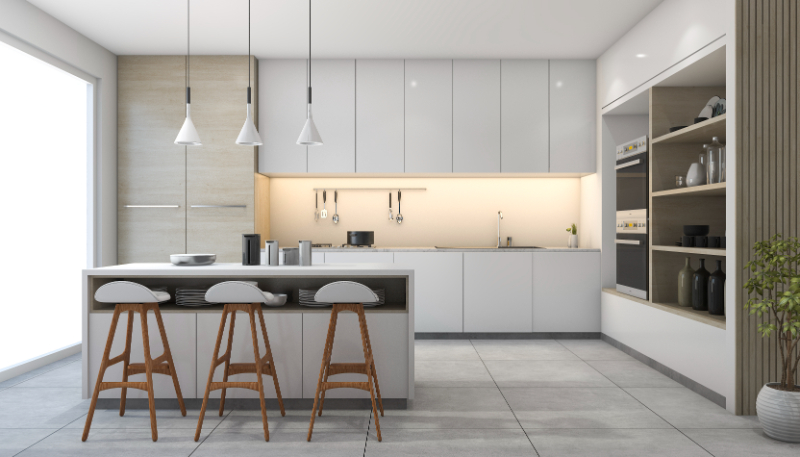 Lighting has always been an essential consideration for interior designers and decorators, but it always gets a different amount of attention from homeowners. But when it comes to beautifying luxury home interiors, the proper lighting can vastly improve any home, and often for very little expense. Just changing the lighting system can make a room look bigger and brighter; it can accentuate certain home features or create contrasts that make a room dynamic. The right lighting can transform a drab room into a space of luxury and refinement. 
Incorporate these interior lighting tips and tricks and make luxury home interiors stand out:
Choose lighting fixtures with clean and modern textures 
There's no need to go for loud and over-the-top prints in lighting furniture to elevate a room's design. Simple colors like black, gray, or white will give a polished look to any interior. Having powder or matte-finished lighting fixtures increases the sense of sophistication, especially when paired with accents of gold or silver in their design. Subtlety accented with a dash of color hits the right balance of subdued yet interesting.  
Add elegance with pendant lights, track lights, and wall sconces 
Luxury home lighting techniques work best if you know which areas deserve a signature look that draws attention to that space. Pendant lights, for example, work best in living rooms as the ceiling's centerpiece. Other than being aesthetically pleasing, highlight a painting or a kitchen's grand marble counter by installing track lights. Wall-mounted sconces will do wonders, particularly when placed in living rooms and bedrooms for reading and to create contrast. 
Upgrade ceilings with cove lighting
Make the most of your ceilings. Line the edges and corners with LED strip lights and their illumination will provide perfect lighting coverage. Note that cove lighting is rarely shone directly from the LED light source; it is deflected from the ceiling into the room. The effect is that you have a warm light that radiates from all around. It both perfectly frames and illuminates. It can often add a dramatic and atmospheric touch to hallways and rooms. 
Install soffit lights 
Soffit strip lights installation is an attractive modern home trend to try. Similar to how cove lighting works, soffit lights are tucked between the area of the wall and the cabinets creating a linear illuminating effect. Switching these lights on alone or simultaneously with the main ceiling lights adds a sense of character to any stylish modern home. Soffit lights can be placed overhead and on the lower ends of cabinets, in kitchens, bedrooms, or home office spaces. They can also be used externally under eaves or arches, creating a lovely soft glow to the exterior of your home. 
Install a series of drop-down pendant lights
A series of drop-down pendants is a very popular choice for those looking to create interest and functionality. Install these light fittings in kitchens and dining rooms, over a big table, island, or peninsula, and you have a design feature that's both attractive and provides task lighting. 
Looking for elegant luxury homes for sale in Bethesda, MD? Work with the best and most reputable team at Heller Coley Reed of Long & Foster Real Estate to get started. Call today at 240.800.5155 or send a message here.